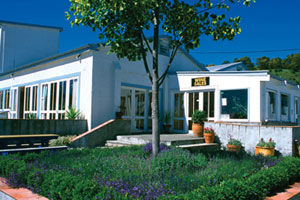 It was a windy night in a cramped room in a dingy Wellington back street, 1994, when one winemaker had Regional Wines and Spirits' customers scrambling to book for one of "the tastings of the year".
The winemaker was Gordon Russell and the wine was from Esk Valley, Hawke's Bay. The tasting was of The Terraces - one of this country's top red wines.
The best part of the tasting was not the wine, but the winemaker's likeable, low-key approach.
Every person in that overheated room at Regional Wines was in thrall to a man who loved wine as much as he loved alcohol - in other words, he imparted the idea that there was more to wine than just the obvious ...
It would be years before I got to the tiny Esk Valley winery, tucked away on a hill north of Napier, but that tasting tickled my fancy.
Vines were first planted at Esk Valley by English settler, Robert Bird, who built the Glenvale winery in 1933 - which is Esk Valley today. The concrete fermentation vats built by Bird are still there, but the wines are vastly different from the fortified offerings he produced.
Last year Esk wines were rebranded. The swanky new labels were accompanied with an announcement the grapes in some wines would come from other wine regions. Before that Esk wines were made strictly with local grapes. As good as the new labels look, the proof is in the bottle. Russell, thankfully, still holds sway - producing outstanding red and white wines.
Esk Valley is open seven days a week, 10am-5pm until April and 10am-4.30pm, Monday to Saturday from May to September. Ph: (06) 872 7430 or email: enquiries@esk valley.co.nz.
BEST OF THE ESK
The Terraces is Esk Valley's top wine but, sadly, hard to find. The current release is The Terraces 2006; long sold out. The next release won't be until 2011, so in the meantime, get your lips around these:
2008 Esk Valley Gimblett Merlot Cabernet Sauvignon Malbec, $23
Exceptional value red blend from Hawke's Bay.
2009 Esk Valley Marlborough Sauvignon Blanc, $23
Lively, full-bodied and bright. This Marlborough sauvignon is a very good drop - best of all, it's bone dry.
2009 Esk Valley Hawke's Bay Verdelho, $23
Gordon Russell planted the obscure, all but forgotten Verdelho grape in Hawke's Bay in 1998 and has since made just 500 cases of this full-bodied, bone-dry and, it has to be said, unusually good white. Lively and lovely.
2009 Esk Valley Marlborough Riesling, $23
Drier than former Esk rieslings with succulent, zingy lime flavours. A gorgeous style.
2008 Esk Valley HB Winemaker's Chardonnay, $28
This rich, creamy chardonnay is also beautifully restrained in style, thanks to the winemaker's determination to show chardonnay in its truest, most appealing light. Try it.