Address: Level 1/35 High Street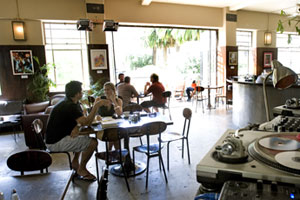 We came here because we'd been for lunch and dinner occasionally over the years and heard the breakfasts were equally as good.
Parking was not an issue for us, we walked - which we'd recommend as the only option if you have a car is a carparking building and, personally, we'd rather spend the money on food and drink.
We walked in and immediately thought Rakinos' lively late afternoon/night-time atmosphere was missing early morning. Instead there was a quiet, relaxed feeling, which was perfect.
The most unusual thing on the menu was the breakfast salad with cos lettuce, fried new potatoes, parmesan, roast tomato, spicy chorizo and a poached egg ($16.50). It sounded delicious but we didn't think we were hungry enough to tackle it this time.
We ordered a toasted bagel with vine-ripened tomato, bacon and pesto ($11), and the creamy garlic and thyme field mushrooms on toasted ciabatta ($13). Both were terrific. The mushrooms were perfect - creamy without being swamped in sauce.
The service was relaxed, like the atmosphere.
The coffee was fine without being fantastic.
We recommend if you come here you plan a return visit at night when Rakinos has a wide-ranging line-up of bands and DJs.
Overall we thought Rakinos lived up to previous visits. The service, the view from the balcony over High St and the food all make this a great city cafe.