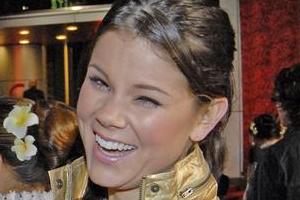 The key to a long life is usually put down to staying happy and healthy, but now it seems your name could be shortening your time.
Psychologists in the United States claim the initial of your first name is the key to longevity, with people whose names begin with A outliving those beginning with D.
That's good news for MTV presenter Amber Peebles and Outrageous Fortune actress Antonia Prebble, but bad news for TV presenter Dominic Bowden and comedian Dai Henwood.
The research, published in international science journal Death Studies, claims it could be down to a subconscious link to school grades, where A represents high achievement and D near failure.
They examined the lifespans of 10,000 professional athletes, doctors and lawyers born between 1875 and 1930.
Sports professionals with a D name lived to an average of 69.2 years, compared to 73.4 for A names and 71.3 for E to Z names.
The researchers claim this means people with D names are more likely to develop low self esteem which may make them more vulnerable to disease.
Hopefully this will not mean Dan Carter will miss the posts in 2011.
- HERALD ON SUNDAY