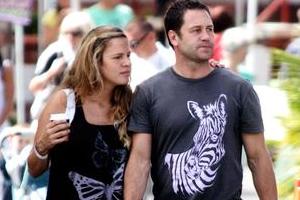 To his CV of All Black, Kiwis league star, TV personality and businessman, Marc Ellis can add another achievement - new dad.
The 38-year-old has been celebrating the arrival of his first child, a baby daughter, in Auckland early on Thursday.
Ellis' wife Agustina and their newborn were at Birthcare Parnell yesterday, and the couple took some brief time out to wander through the nearby farmer's market and to visit a cafe.
"It's good to get some fresh air," Ellis was overheard saying.
A woman who answered the phone at Agustina Mon's bedside refused to comment, and Ellis' father Chris also wouldn't comment.
In a women's magazine article last year, a family source said the couple were looking forward to becoming parents. "They're thrilled. Marc may seem like a wild and crazy guy on TV, but at heart he's a very caring, sensitive guy whose family means everything to him."
Ellis and Mon, married in April 2006, live in her native Argentina and New Zealand.
Meanwhile, another funnyman is celebrating being a dad again.
Flight of the Conchords star Rhys Darby's second child, a little boy called Theo, was born just before Christmas.
Theo is the second son for Darby and his wife Rosie Carnahan-Darby, who also have a 4-year-old named Finn.
On her Twitter page, Carnahan-Darby revealed Theo, who arrived several days past his due date, was Finn's "mini me".
"The life of a 2-week-old baby: boob, snooze, s*** and repeat ... indefinitely, till mum begins to lose mind," she wrote.
Theo arrived in a much more low-key fashion than Darby's Flight of the Conchords co-star Jemaine Clement's first child.
Sophocles Iraia Clement was born in 2008 and his name was ruled the second-worst celebrity baby name on the website BabyNames.Com.
Fellow Conchord Bret McKenzie also became a first-time father last year when his wife Hannah gave birth to their daughter, Vita.
- HERALD ON SUNDAY