Nici Wickes nominates Coco's Cantina as one of Auckland's best Italian-style eateries
Herald rating: (out of five) * * * *
Address: 376 Karangahape Rd
Phone: (09) 300-7582
Cuisine: Italian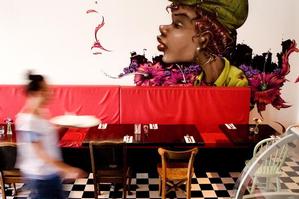 There's nothing I like more than finding a newly established restaurant and getting a posse together to check it out. It's the newness, the hopefulness, the possibility that it could become a favourite. So I organise three film industry friends to join me and we meet at five-week-old Coco's Cantina on K Rd.
I am smitten as soon as we arrive. The word "cantina" conjures up rustic charm, well-worn wooden tables and food that has stood the test of time, in some far-flung part of Italy. Coco's certainly looks the part. The interior is casual and homely and feels like it's been there forever. There's a well-stocked bar with a friendly barman and a couple of different dining areas to choose from.
The walls are adorned with personal effects and memorabilia collected by the two sisters who set up Coco's which all add personality and charm.
The blackboard menu isn't extensive but it hits all the right notes for us. We dive straight in and order starters of calamari with spicy vinaigrette, bruschetta peperonata and arancini bolognese to share. The calamari arrives as a magnificent pile of tentacles (a welcome relief from rings) served with a spicy vinaigrette (a change from aioli).
The aracini - risotto balls - have been coated in panko crumbs, for that extra dry and crispy finish, and the filling is a rich and tasty tomato and meat sauce. It's a tough choice but we all agree the bruschetta is the hero of the starters. The bread is char-grilled, imbuing a distinctly smoky flavour and the warm peperonata topping is a fine example of this traditional Italian pepper stew - softened peppers, tender and moreish, and packed full of flavour with olives (Coco's does its own), capers, onions and of course olive oil.
For our mains I can't go past the veal marsala - two fillets of veal, wrapped in pancetta and served with marsala wine sauce on a soft pillow of polenta. This rich and hearty dish is not for the fainthearted, but I'm in raptures.
The director orders fish of the day - tarakihi fillets, skin on, panfried and piled up on a fresh, flavourful salad of cherry tomatoes, garlic, parsley and citrus flavours. The fillets are fresh and beautifully cooked.
The cameraman chooses pollo alla griglia and is impressed when a half chicken arrives, smoking from the grill, balanced on a generous serving of the Italian bread salad, panzanella, made with a pungent red wine vinegar dressing and plenty of torn basil, ripe tomatoes and a splash of top olive oil.
The linguine with chilli and crab was the only disappointment. The orderer of this dish reports that a lack of crab and chilli prevented it from living up to its promise.
At Coco's they use the word "puddings" on the blackboard menu and the selection has all our Italian favourites - affogato, tiramisu, gelato in a cone, dark chocolate tart. Easy ordering - we take one of each and we aren't disappointed. The best ingredients have been used in all of them and it shows, from the dark bitter cocoa dusting on the tiramisu to the strong espresso, set hard and cracking on the vanilla bean icecream of the affogato, to the handmade pastry of the chocolate tart. We are very happy indeed.
The casualness of Coco's Cantina belies the quality of the food and service it is providing. It may be new and this may the owners' first foray into their own establishment, but Coco's Cantina is doing a fantastic job on K Rd, the likes of which I haven't seen since Guadalupe in the early 90s.
Molto bene!
From the menu: Calamari $13, bruschetta $13, arancini $8, linguine with chilli and crab $26, chicken alla griglia $27, fish of the day $30, veal marsala $30, affogato $10, chocolate tart $10, tiramisu $10, icecream $8.
Drinks: Fully licensed, good selection of beers, jugs of sangria $35.