Ewan McDonald nominates Mondial Cafe as one of Auckland's best eateries.
Herald rating: (out of five) * * * * ½
Address: 549 Great North Road
Phone: (09) 376 6682
Website: mondialbar.co.nz
Cuisine: Tapas
Open: Dinner Tue-Sat, brunch Tue-Sun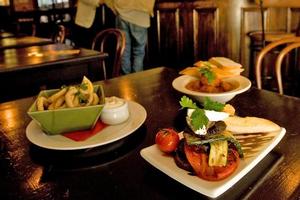 Grey Lynn. Why did they choose that name (no, please don't write to the editor; honestly, he's not in the least interested) for one of the most colourful suburbs in Auckland?
Stepping inside the new Mondial Cafe, Jude, daughter Sian, her friend Karina and I have stepped into another world. Another to add to the six or seven or 22 along the shopping strip outside.
Mondial is kind of, but not quite, French or Italian or Spanish for "the world" or "global". It's a bodega, a Spanish wine and tapas bar, even if it doesn't (yet) have hams hanging from the ceiling or barrels stacked around the walls or ropes of garlic and ribbons of peppers. It has the most important ingredients: Wines. Tapas. Hosts. The space and the people for conversation.
Manuel Garcia was the face and the chat behind the wonderful, sadly rundown Bonita, once the best and likely the only genuine tapas bar in Auckland; his business partner, Pascal Murello, graced tables at Euro for a longish time. Both were lately at Prohibition, the gangster-era theme restaurant in Ponsonby.
Murello's Italian-French origins are in Roussillon, not too far from the Pyrenees, and Garcia is from Leon, the northwestern Spanish city where they know a pintxo or two about tapas.
There are several ways to start a lively debate with a man from Leon, and one is to mention that the tapas in Seville, or anywhere else south of Valladolid, are really good, especially in that little bar just outside the ...
In Garcia's home town, an entire district known as the Barrio Humedo is dedicated to tapas bars, each serving its own unique dish free with a corto (small beer) or glass of wine.
The word, the tradition, has become abused outside Spain. We have become used - in our seagulling way of picking up a bit of this cuisine and a bit of that diet and a lot of discarding the bits that don't really suit our world view - to pigeonholing things into what we want them to mean.
We have tapas restaurants. "Restaurant" and "tapas" shouldn't even be in the same sentence. "Tapas" and "bar", yes. There is no such thing as a "tapas restaurant". Got it?
But we have learned a thing or two about Spanish grub. We have a vague understanding of what paella and gazpacho and manchego are. Even jamon. Even if we can't quite get our lisp around aceitunas and albondigas and boquerones. Let alone cojonuda or cojonudo, which you can Google. Four folk is the minimum required for the little platters, the bigger tastes, the conversation, the wines, and the social engagement tapas is all about.
I suppose I should tell you what we ate. Lots of things. According to the bill, which arrived about four or five glasses later with the remarkably lightweight tally of $146, we had 10 or 12 plates between us.
Some very fine meatball whatchamacallits. A nice doo-wah with peppers. And sausages. From Guillaume Desmurs' L'Authentique charcuterie, if I'm not mistaken, and I'm not, because either Pascal or Manuel - who is not from Barcelona - told me.
We have, also, learned a thing or two about Spanish booze. Tempranillo and garnacha and rioja. Bugger food miles, there is a time to drink global. And when in Jerez ... Garcia serves a couple of more than tidy Lustau sherries, which went very well with the salted almonds that arrived moments after we did. Before we moved on to the tinto ... which was even better.
"Karina had the most beautifully blended spicy shiraz tonight, peppery with a long aftertaste," she wrote on Facebook next morning. And they say kids don't get a decent education these days. It took me several decades to learn how to analyse wine like that.
Dessert. Murello brought a creme caramel that was a joy. A delight. Or considerably more than both. Yes, I know they don't do sweets in Spanish tapas bars (except for the meringues in Madrid, maybe?). You're supposed to move on to the next one. That's one tradition worth breaking.
The sign-off line on the bill from Mondial reads "gracias and a bientot" - thanks and see you again, in each of the patrons' languages.
Thank you, and we will.
Vegetarian: No un problema
Wine: Drink global