In the latest of a series on Restaurants of the Year, Viva reviewer Ewan McDonald nominates The Grove as one of Auckland's best restaurants of 2009.
Herald rating: (out of five) ****
Address: Te Motu Vineyards
Phone: 09-372-6884
Website: temotu.co.nz
Open: 7 days noon-late
Cuisine: Bistro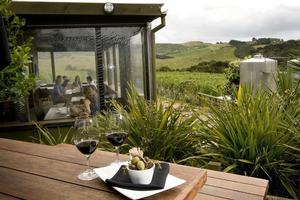 If Capricorns have such "great organisational skills", are so "practical and realistic", how come they have their birthdays when all the decent restaurants are closed? And forget the "far-sighted" bit - they do the same thing every year.
Jude arrived in January, which makes it difficult to take her for a. celebratory dinner. Never mind. If the minestrone won't come to McDonald ... We took the ferry to Waiheke, where restaurants open for the holidays.
The Shed at Te Motu Vineyards was one of Viva 2008's "20 places where you should eat in Auckland", which might have surprised some who thought we'd punt for the island's newer, flasher, wow-factories. There are quite a few things that are more than pleasantly Kiwi about this place, apart from the Dunleavy family holding being one of Waiheke's older and better vineyards.
The building: no poncy architect stuff, it's a tool-and-tractor shed that grew. The welcome: Paul Dunleavy, the managing director, welcomes and farewells guests in his Hawaiian shirt and boardshorts.
The ambience: laid back. Unlike other vineyard eateries, here you sit among the vines rather than gazing over them to the sea view.
Peter Becker, the chef, is a 30-year veteran of kitchens close to harbour and gulf - Cin Cin at the Ferry Building, Euro, Iguacu (well, Parnell has sea views) and The Shed. He spent last year at the Boat Shed Lodge on Waiheke but has returned to Te Motu for summer'09.
Good move. While he was away there were grumbles about The Shed resembling other island grills: ordinary food at extraordinary prices, lackadaisical, not laid back, service.
His menu reveals smart planning and two fascinations. The smarts? Most come to Te Motu for the Bordeaux-style reds and Becker lets his food play second fiddle to the star. That doesn't mean second-rate. His chicken liver parfait has been called "the closest you'll come in this country to pate de foie gras". Translate "parfait" and you're just about there.
The fascinations? One is Asian accents, as in Jude's pork belly, marinated in char sui, slaw spiced with sesame, roasted peanuts and sticky black glaze.
The well-schooled waitress tipped us to chef's other trademark: "Duck is his thing." I ticked option three, just-warm pancakes with cucumber, carrot and spring onions, in a plum sauce that Dunleavy later told us is made from an aged Chinese recipe and rivals anything he ate on a recent visit there. I wasn't as enthusiastic. Light, fresh, summer tastes but that was about it.
Light, fresh summer tastes that did work: Jude's delightful dessert tart. Surely you're not wondering about the wines? We asked, they chose, they served glasses of the stupendous local produce to match the food.
As an unforgettable sunset blazed above the ranges and vines, Jude had a birthday dinner to remember.
From the menu: Rock lobster bisque, garlic crostini $17.50; Char sui pork belly, sesame spiced slaw, roast peanuts, sticky black glaze $26; Seared snapper millefeuille, rock lobster sauce $32.50; Manuka honey and saffron creme brulee $15.
Vegetarian: Easy-peasy
Wine list: Heroic locals