In the latest of a series on Restaurants of the Year, Viva reviewer Nici Wickes nominates The Grove as one of Auckland's best restaurants of 2009.
Herald Rating: *****
Address: St Patrick's Square, Wyndham St
Phone: (09) 368 4129.
Website: thegroverestaurant.co.nz
Cuisine: Modern New Zealand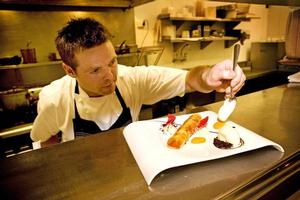 One of my "besties" was in need of a cheer-up birthday dinner to forget she no longer qualifies as 30-something. I knew just the place to make her feel better.
At least I hoped that The Grove, in St Patrick's Square in central Auckland and sporting a new chef, Ben Bayly, would deliver to its stellar reputation.
Previous chefs have included Michael Meredith and Sid Sahrawat, both of whom helped to cement The Grove as one of Auckland's finest restaurants, and owners Michael and Annette Dearth pride themselves on selecting only the best chefs to carry on the tradition of excellence.
The first feel-good factor arrived by way of the valet parking person who greeted us at the entrance.
Settling in, we noted that the wine list was more of a wine encyclopedia, with Michael Dearth sourcing great wine from around NZ and the world.
My friend is allergic to wine so she ordered a citrus blush cocktail and I opted for a glass of Peregrine 07 Pinot Noir.
To start I decided on the quail ballotine while the birthday pal selected the potato gnocchi. Both dishes were divine.
The gnocchi encased goats' cheese, tortellini style, and was accompanied by medjool dates that added sweetness to the cheese's pungency. My quail was tightly rolled, and boned with a black pudding pinwheel, soft pate and pickled apple.
My choice of main was glazed pork belly, perfectly square, with crackled skin and melting layers. I was struck with the balance of flavours: mangosteen and butternut squash were the perfect ingredients to complement the pork.
The birthday girl's dish of lamb rack, all pink, juicy and rare, and lamb shoulder, slow-cooked and falling apart, showed off the chef's treatment of classic-style dishes. One of the evening's highlights came as a side dish - fries infused with truffle oil. Our other side dish - globe artichokes with capers, caramelised garlic and shaved parmesan - also proved the attention to detail that had gone into this menu.
We thought it only right to finish with desserts. My friend ordered the caramelised banana galette which was a banana, sliced thinly, then layered on pastry, and caramelised. I settled for petits fours which included a small elderflower macaroon, a citrus chocolate fondant and a honeycomb chocolate.
The notion of fine dining can be off-putting but my advice is: visit The Grove and you will be converted.
The staff were polished, yet with a put-you-at-ease approach, and the food was outstanding. This was fine, innovative dining at its best and Ben's influence on the menu appears to be taking The Grove to even greater heights. Cheered up? Ecstatic.
From the menu: Roasted quail ballotine $24; potato gnocchi filled with goat's ricotta $23; glazed pork belly $38; fries with truffle oil $9; caramelised banana galette $16.50; petits fours $10. Drinks: Fully licensed 250-bottle wine list, extensive selection of wine by the glass and great cocktails.