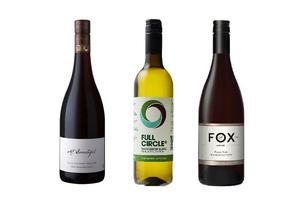 It's been a rollercoaster of a year and as I fight through the barrage of pinot gris bottles barricading my desk, I'm surprised to realise I'm looking forward to drinking some of them.
Pinot gris has never rocked my world but Kiwi pinot gris has moved up so many rungs on the drinkability ladder in the past 12 months, the best are a force to be reckoned with. But the biggest success story this year is pinot noir, which caned all other wines at the 2009 Air New Zealand Wine Awards with its gold medal haul.
Even before the gongs were announced, it was obvious pinot noir had improved beyond NZ winemakers' wildest expectations. Today it's possible to buy outstanding pinot noir for less than $30 - still a stretch, but if you're going to dig deep, surely the end of the year is the best excuse. To complete the good wine news for 2009 is the environmental pulling-up of socks. Kiwi wineries are using fewer herbicides, pesticides, less polystyrene, more cardboard and putting more thought into how they make and package wine.
Yealands Estate in Marlborough is now using a bottle that's 89 per cent lighter than a standard bottle; generates 54 per cent fewer greenhouse gas emissions and uses 19 per cent less energy to produce. Even if plastic doesn't spin your wheels, Yealands' fully recyclable, eco-friendly export packaging is worth applauding.
WINES OF THE WEEK

2009 Full Circle Marlborough Sauvignon Blanc, $17
If its packaging doesn't seduce, then the vivacious wine inside this new, recyclable plastic bottle surely will, with its fresh, minerally flavours.
2008 Fox Junior Marlborough Pinot Noir, $28
Fox Junior is winemaker John Belsham's new baby, and is a soft, smooth and seductive pinot noir with great length of flavour.
2008 Mt Beautiful Pinot Noir $33
This pinot noir is worthy of its name, thanks to winemaker Sam Weaver, who made this silky soft red.