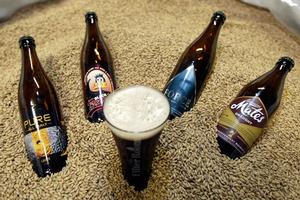 Stocking the fridge is high on everyone's agendas as we hit the holiday season.
But one Kiwi favourite will be a higher priority than anything else - beer, the second biggest selling item in supermarkets, by volume. Kiwi beer drinkers tend to favour British-style brown beers and lighter, easy-drinking lagers. But as the wine industry has matured, so has our beer sector and there is now ample on offer. A browse of the supermarket shelves reveals something for every thirst, from wheat beers and stouts to bocks and pilsners.
Here's a guide to what's what.
A chilled lager is still a dead cert on a hot day. We have the Czechs and Germans to thank for this beer style. Lager (meaning "to store" in German) was traditionally brewed in spring and stored in icy caves in the Alps for drinking at autumn's Oktoberfest. German brauhauses still boast a variety of lagers (both light and dark in colour) including Helles, Dunkels and Marzen biers.
Genuine pilsner (the first pale lager) has its origins in the Bohemian town of Pilsen in 1842. This golden-hued brew has a crisp, clean bitterness and flowery aromatics of local Saaz hops.
If you're more head-strong about your beer then you'd enjoy a bock (meaning "goat" in German). However, at 9 to 10 per cent alcohol, these lagers have the potential to leave you feeling like you've been head-butted by a goat.
A meal in a glass, stouts and porters are toasty dark beers with bitter choc-coffee characters. Porters (popular with the porters in English markets) powered London's workforce during the industrial revolution. Around a similar time, super-charged pale ales packed with hops were brewed for Brits in India.
The preservative qualities of hops helped keep it in good condition on its long voyage to the thirsty colonies.
These styles are a small taste, a mere sip, of the global beer experience.
When you're stocking up the drinks this summer, why not try something different and take your taste buds on a tiki tour through beer history and across continents? Your thirst will be truly sated when you're topped up with beer knowledge.
Beth Park is national beer quality manager for DB.