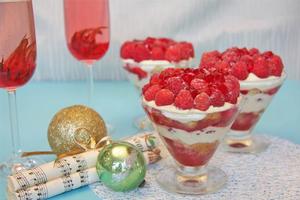 My childhood Christmas memories are of waking the household at 6.30am after spending the night peeking out my window to see if Santa happened to be flying past. And of Macintosh's lollies, candy canes, chocolate Santas and my nana's boozy trifle.
As an adult, Christmas is quite different.
It's about praying the kids won't wake up at 6.30am, so I may be lucky enough to get a sleep-in after 14 hours solid in the restaurant.
It's about hoping Santa has been kind and not forgotten me, and that I am not challenged to try out the new board game, 30 Seconds, while still half asleep.
As generations change, so does the food served on Christmas Day.
From our British roots we inherited foods typically eaten in much colder climates, but in more recent times we have evolved to a lighter menu.
Grazing through the day works so much better in warm weather than sitting down to a huge banquet.
And it means the whole family can be involved in the celebration, with the men honing their barbecue skills rather than just leaving the women sweating away in a hot kitchen.
Let's face it, traditional Christmas fare is scrumptious but once consumed you find yourself in need of a siesta - or perhaps a glass of bubbles and a civilised game of petanque - just as the kids are getting warmed up to the idea of bullrush, cricket, touch or volleyball. The modern Kiwi Christmas menu could consist of fresh rock oysters, sitting on rock salt or black seaweed with a virgin mary; barbecue prawns split down the centre, marinated in lemon, herbs, seeded mustard and garlic oil; lamb rumps studded with rosemary and anchovy fillets and rubbed with cracked pepper; a slaw salad made with roasted, stripped chicken, grated carrot, finely shredded cabbage and julienne of apple and mint with a cider dressing; or honey sesame-roasted kumara.
For dessert there could be vanilla blancmange with warmed boysenberries and thick yoghurt; chocolate chip pavlova; or a layered trifle made with sponge, raspberries, mascarpone, raspberry jelly and coulis.
And then, of course, comes the greatest Christmas food puzzle - what to do with the leftovers. Well, for a start, the kumara can be cut down to fit on skewers with marinated chicken and spring onion; the slices of lamb can be julienned and wrapped in filo parcels with the leftover slaw salad; the oysters cooked Kilpatrick-style under the grill with Worcestershire sauce, minced shallots, diced smoked bacon and parsley. Just add a good tub of hokey-pokey icecream, waffle cones and butterscotch sauce and you have a complete "clear out the fridge" menu.
By December 27, just about all you'll have left is some lonely ham wrapped in a damp tea towel. The men will escape in the boat to catch the evening meal while the women pull up a deck chair for some well-earned relaxation. Merry Christmas.