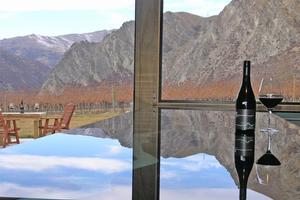 There's something supremely satisfying about sipping wine among the vines or barrels from which it came. It's something that will lead many to travel through the country's main wine regions this summer and stop for a spot of sampling at their increasing crop of cellar doors.
From the slick operations staffed by larger wineries to the simple tin sheds of some boutique producers, the experiences available to wine tourists are as diverse as the wines offered for tasting.
Cellar doors have also arguably never been more engaging, as the proliferation of wineries has forced many to use more imagination in what they're offering, while regional bodies encourage their wineries to up the ante through organising initiatives that highlight and award the best enterprises.
Encountering wine at its source can be rewarding in many ways. As well as the romance of sampling in situ and seeing the factors influencing it for yourself, the first-hand information provided by those serving at cellar door can be highly illuminating.
In smaller operations you may enjoy the chance to talk to the winemaker or owner, who will be able to enrich your tasting experience with personal input.
Cellar doors can be great places to learn about wine, fronted by those who should know their arneis from their merlot. Use your visit to ask the burning wine questions you've had stored up, not just about the winery's products, but about the region and wine more generally. And don't be afraid to share your thoughts on the wines you're tasting, either, as wineries are always interested in getting feedback.
Often you will be able to find products at the cellar door that are not available anywhere else. Wineries sometimes use the cellar door to trial new lines before they go on sale more widely or use them as the sole outlet for special wines.
Cellar door etiquette
Cellar doors either charge a minimal fee for tasting a selection of wines, which is sometimes refundable against a purchase, or offer them free. Even when the samples are gratis, there's absolutely no obligation to buy anything, just use it as an opportunity to try a range of wines. If you like them enough, often you can purchase a case at a discounted rate.
If there are any wines you'd particularly like to try, let the person serving you know. Conversely, if the choice is up to you and you don't know where to start, ask for suggestions that perhaps include the winery's specialties.
Allow the person behind the counter to pour - if the tasting's free, it's still not a free-for-all! Take a small mouthful of the sample and make sure you take the time to taste it, rather than knocking it back without registering its subtleties.
You don't have to finish the whole sample - any left-overs can be deposited in the spittoon that should be in evidence. Indeed, if you want to keep a clear head over a day of winery visits or are driving, spitting is a sensible option. If there's anything you really like, you can buy a bottle and take it home where it can be savoured.
If you've started to build up a cellar in the boot of your car over the course of your travels, make sure you don't keep the wines in there too long. Hot temperatures can cause wines to deteriorate, especially over lengthy periods.
Planning your visits
When thinking about which wineries you'd like to see, variety is the spice of life.
It's good to incorporate a mix of large and small into your itinerary to get a good idea of a region and leave some room for spontaneity as you tour around.
However, don't overreach yourself. More than four wineries in a day and you may well find the wines start to blur into one other.
Aim for quality over quantity.
It can be satisfying to combine pilgrimages to labels you already like with trips to names that are less familiar. In regions such as Marlborough and Central Otago, where lots of new wineries spring up all the time, there's sure to be plenty of names you've never heard of that would warrant exploration.
If a winery you want to see doesn't appear to have a cellar door, it's worth phoning to see if you can arrange an appointment.
Wineries are generally chuffed to catch up with people who are passionate about their wines.
Cuisine Wine Country makes a good wine travelling companion, reviewing cellar doors and listing operators offering regional wine tours, or wine tour veteran, Phil Parker's cellar door tour book, The Mad Keen Wine Buff's Road Trip.
Before heading south, it's also worth looking up the Classic New Zealand Wine Trail which suggests itineraries through Hawkes Bay, the Wairarapa and Marlborough, with links to wine trail maps for all those regions.
This can also be picked up from local tourist information centres in every wine region.
Stellar cellar doors
Here are some great establishments, old and new, large and small, that are worth dropping into on your travels.
Hawkes Bay
Mission Estate Winery - a taste of history
What better place to start a wine tour than at this historic estate, where its founders built the first winery in Hawkes Bay in 1851. Housed in an imposing former seminary building with expansive views across Napier, you can sample from its extensive range of regional wines, which can also be enjoyed in the highly regarded restaurant in the same building.
Salvare - opening new doors
New winery Salvare may have opened its cellar door only last year, but has already been awarded Hawkes Bay Cellar Door of the Year. Its simple red farm shed is run with the philosophy of encouraging its visitors to "take time to enjoy the journey" and offers a relaxed and airy space in which to sample this promising winery's wines, as well as its olive oils, delicious dukkahs and other food products.
Sileni - foodie paradise
Something of an epicurean Eden, Sileni's impressive modern winery and cellar door not only offers a taste of the company's great wines, but is also packed with gourmet goodies that include a fabulous range of imported cheeses. As well as general tastings, it offers two daily tours that take visitors through the vineyards and winery, as well as gourmet wine and cheese tastings - and is also home to a culinary school.
Martinborough
Ata Rangi - a pioneer's place
Martinborough is one of the few wine regions that can largely be covered on foot, making it perfect wine trail territory. For a top-notch tasting experience, stopping in at Ata Rangi's cellar door is a must, where you can try national treasures such as its consistently thrilling pinot noir and classic Craighall Chardonnay. The estate's bush block honey and olive oil are also worth tasting.
Vynfields - lounge lover
At Vynfields, owners John Bell and Kaye McAulay have opened up the elegant lounge of their historic homestead to those interested in sampling their wines.
Sit back and enjoy a glass of their organic and biodynamic wines overlooking the vineyards in which the grapes were grown, perhaps paired with a gourmet platter or the soup and hot bread that are also available.
Marlborough
Johanneshof - go underground
As well as its renowned range of predominantly aromatic European influenced wines, another major drawcard to Johanneshof is its rock cellar. The first in the country, this candlelit and wonderfully atmospheric 50m long cave was tunnelled into solid sandstone 20m underground beneath the winery's home vineyard.
Auntsfield - historic site
While most of what's to be seen in the Marlborough wine region has sprung up over the last decade, Auntsfield boasts more history than most. It's the site of the region's earliest vineyard dating back to the 1870 and has a rammed earth cellar which is open to the public. As well as general tastings of its smart selection of wines, Auntsfield runs daily tours of the vineyard and historical sites that takes in the old whare, cellar and first vineyard site.
Wither Hills - pick your own
One of Marlborough's larger wine companies, Wither Hills' cellar door experience extends to the vineyard. It has established a "vine library" where, depending on the season, visitors can pick to try grapes from most of the varieties planted in New Zealand.
It also has a casual but classy a-la-carte restaurant.
Waipara
Mud House - educational elements
Mud House is another sizeable winery providing more than just wine tasting. As well as sampling its Mud House and Waipara Hills wines in its revamped facility, which also boasts a gift shop and affordable cafe, visitors can wander into the vineyard through its biodiversity trail that highlights how nature helps out in the vineyard.
It also offers two vineyard and winery tours a day, as well as a tailor-made premium tour led by its winemaker, which can include barrel and vertical tastings on request.
Pegasus Bay - high flying fare
Knowledgeable staff are on hand to talk you through the range of exceptional wines made by this highly regarded family run winery. Pegasus Bay also boasts one of Canterbury's best restaurants, serving fresh and expertly executed cuisine, which can be paired with a tasting selection of its wines. Booking is advisable for this popular restaurant.
Terrace Edge - wine and olives
Terrace Edge is great little estate that is one of a number of new boutique producers to join Waipara's wine trail. It is one of the few in the region to make a syrah from the precipitous slopes close to its modest-but-welcoming tasting room, where you can also try the estate's olive oil.
Central Otago
Brennan - picnics and petanque
Brennan is a new winery on the block that has started to make a name with its silky pinot noirs sourced from its Gibbston Valley vineyard handy to Queenstown. In summer, tasters spill out from its cosy cellar door to picnic in its idyllic setting amongst the vines, explore vineyard trails or play petanque.
Northburn - from sheep to wine
Another new Central Otago cellar door has opened at Northburn Station. After diversifying into wine, this high country merino sheep station, just outside Cromwell, built "The Shed", a tasting facility modelled on the Northburn Station Homestead that also houses its shop selling tasty cuts from the farm. Co-owned by chef Jan Pinckney, it offers a tasting option where each wine is matched with a morsel of food.
Amisfield - bistro bounty
If you're looking for a lovely spot to try some great wines and to dine on fresh local fare, stop into Amisfield. Its award-winning bistro continues the winery's "grown not made" philosophy, while its cellar door also offers wine sales and comprehensive tastings.
Maps and contact details for wineries on the regional trails can be downloaded at:
winehawkesbay.co.nz
winesfrommartinborough.com
wine-marlborough.co.nz
waiparawine.co.nz
cowa.org.nz