Where: 70 Kamo Rd, Whangarei
Ph: (09) 459 4957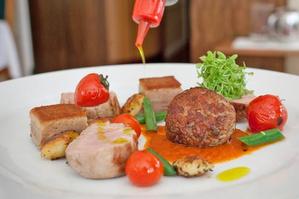 There's something misguided about those television food programmes which show chefs from expensive restaurants telling you how to duplicate their dishes.
It's one thing their educating viewers on simple domestic numbers but the whole point of restaurant offerings is that no amateur in his or her right mind would attempt them at home. It's all very well for that chap Neil Perry, from Sydney restaurant Rockpool, to say "this is a reely seemple deesh" but we all know it will demand ingredients, a kitchen and a technique about as far removed from everyday catering as Tiger Woods' golf is from the Sunday hacker's.
So when I saw on the menu, at the well-established A Deco at Whangarei, an entree described as seared venison carpaccio with spiced eggplant caviar, globe artichoke beignets with syrah dressing, my reaction was: this is why I have come to an upmarket restaurant.
I'm hoping to experience some food that will tickle my imagination and my senses. There is, of course, always the risk at such places that the inventive approach will disappoint, that the execution will lag behind the inspiration or turn into novelty for novelty's sake.
Not so here.
On all the dishes we tried, the little bits and pieces (that's a technical term) earned their keep rather than being fluff contributing nothing to the whole. Having been greeted with a little chilled asparagus soup, I contemplated the carpaccio but went instead for the Peking style quail with an Asian mushroom stir-fry, prawn and smoked eel dumplings (Chinese style and delicate rather than grandma's cannonballs) and a ginger shallot dressing.
The quail was crisp-skinned and tender and the ensemble had a perfumed quality, which turned out to be a keynote style of our food. I have frequently mentioned my prejudice that scallops are the jewels of New Zealand seafood and shouldn't be mucked about.
So it was with some hesitation we chose the scallop tart as our other entree. I needn't have fretted as the main ingredients were simply seared but came with a delightfully crisp pastry case, a cauliflower puree, baby cress and celery and an alarming sounding but pleasing mild curry emulsion.
Palates freshened with a little citrus sorbet, we moved in to the mains. It was extremely difficult to resist the hapuka with pickled crab salad, toasted couscous and calamari and crab bisque but a meat mood overcame me and the pork dish looked promising. It matched the promise.
The seared fillet was moist, not always easy with this cut of pork, the belly confit properly combined crispness and melting but the knock-out was the pork balls, again with a distinctive fragrance.
The grace note here was described as pressed tomato passata and sage gnocchi which sounded pretentious beyond words but which were savoury little packages, underlining the flavours. Our other main of roast duck breast rounds was cooked to the standard we had come to expect and the accompaniment of noodles and beans, beetroot confit and baby cabbage with a cinnamon jus combined into something of a dream team.
We were not sure what to make of the title of one of our desserts, "The Jaffa's Revenge", but its combination of chocolate pudding, tangelo brulee, frozen chocolate with citrus caramel made any intended slight at out-of-towners easy to swallow.
Calling thinly sliced pineapple a carpaccio is defensible but, even if it wasn't, the liquorice parfait, lime sorbet and minted sherbet made any cavils redundant.
The wine list is reasonable without being particularly memorable and two of the wines by the glass we suggested were not available, however the Martinborough sauvignon blanc, Climbing Shiraz from Orange and the Matakana Brick Bay cabernet merlot franc were decent recommendations.
The standard of the food is matched by the charm of the building and the comfort and space of the dining rooms, even if the setting on Kamo Rd is less than lovely - "watching the sun setting over Woolworths" as the efficient and unobtrusive staffer commented.
A Deco deserves to be cherished by the people of Whangarei and it's well worth a visit from those unfortunate enough not to live in that city.
Rating out of 10
Food: 8
Service: 8
Value: 8
Ambience: 7
Our meal: $204 for two entrees, two mains, two desserts and five glasses of wine.
Wine list: Good, with some overseas entries. Slightly limited selection by the glass.
Verdict: A class act with food that stands up to distinguished comparisons, stylishly served in a spacious and comfortable setting.