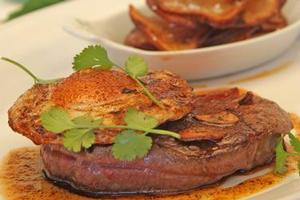 I am sitting here, tears cascading down my face, my tongue happily on fire trying a bottle of piri piri sauce that got handed to me on a "dare" from my Brazilian kitchenhand.
Man, is this one hell of a hot sauce, measuring 50,000 units on the Scoville heat scale.
Piri piri is a Swahili word that translates to pepper-pepper, and it now lays its foundations in a country I really want to visit - Portugal.
It seems this beautiful, humble, unobtrusive country known for its port loves to add heat to everything - even its alcohol. After the sauce I was given Aguardente, known, ominously, as fire water. It's used to marinate ginja (similar to sour cherries) to make ginjinha, which is splashed over savoury foods such as the famous Portuguese pork sausage chourico.
These sausages are addictive, coloured with paprika, cooked over smoke, and served alongside bacalhau - a salted cod that is soaked over two to three days with the water changed four times a day, to make creamy codfish cakes.
Apart from the all the heat, Portugal really doesn't seem to attract much attention for its cuisine, yet it has some beautiful aromatic ingredients such as bay leaves, cinnamon, vanilla, saffron, wild garlic and olive oil.
In the 18th century nuns would supplement their income by creating wonderfully named pastries such as nun's belly, angel's chest and bacon from heaven, but were probably most popular for pasteis de nata, a small just-set custard tart dusted with cinnamon.
Sines, on the southern coast of Portugal, is the home of fried pork with clams, a now-legendary dish. The clams were added to - funnily enough - disguise the fishy taste of the pork, caused by the pigs' mainly fish diet.
Meanwhile, in Lisbon, up until the 1930s, farmers would bring herds of turkeys in to the city for Christmas, giving the birds a stiff dose of brandy to tenderise the meat and make it tastier before they were slaughtered.
Nowadays in Portugal you are more likely to hanker for a prego roll - crusty wood-fired bread cut in half and filled with slices of rump steak. The meat is first marinated in bay leaves, wine and garlic, then drained and grilled very quickly. The bread is also dipped in the marinade and grilled, before the sandwich is assembled oozing garlic butter and a dash of piri piri sauce.
Now that I have you hankering for a good steak, I found this recipe made famous by the Bitoque restaurant with a basted egg and crispy potato - and you guessed it, piri piri on the side.