Rating: * * * *
Where: 20 Seaview Road, Piha
Ph: (09) 812 8808
Open: Daily 8.30am-4pm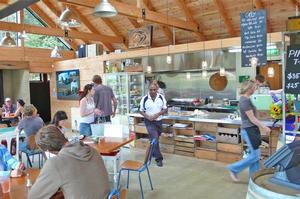 I do not pretend to have closely studied all - well, any actually - of the material presented to the Waitakere City Council and the Environment Court in the long battle to establish a cafe at this iconic West Coast beach.
But it seems to me that the idea of a small eatery was never an outrageous one. I was glad when the plan by Asian developers to build a Club Med-style resort died at birth and no one disputes that a high-rise apartment block or a booze barn or a Mormon tabernacle would be at odds with the special character of this isolated community. But a cafe?
Doubtless the project's earnest opponents believe that an espresso machine is the thin end of a wedge that leads inexorably towards a shopping mall and a casino, but you only have to wander along the beach and look towards the land to see that the council is keeping a firm rein on development: the scale of building is restrained - plenty of fibro or stucco baches survive, there are few brash homes and the colours are muted.
After a battle for planning permission that started in May 2006, the cafe opened in the middle of last month and had just started its second week when the Professor and I dropped in for a Thursday lunch.
Set back from the road, next to the store, it's so unobtrusive that we almost drove past it. It's an unpretentious building - the exposed wooden rafters recall the style of DoC huts and the stylish aluminium-framed glazing makes for a light and airy space.
The stark newness is softened by nice touches - apple crates for shelving and little pigeon-holes that I suspect might have been salvaged from a post office. There's a playpen by the door, the tables - even the little ones - are painted up as if ready for a game of ping-pong and some of the chairs are of the old stackable church-hall variety.
They're taking their environmental responsibilities seriously, too: they have a worm farm and an intensive composting operation out the back, and council-imposed limits on the wastewater output (little signs in the loos exhort you to save) restrict the number of customers at any one time.
The menu runs from breakfast benedicts to burgers and roast vege salads, and there's a cabinet with toasties and pies for the less adventurous. A takeaway window will doubtless do a roaring trade in summer. Things were still shaking down when we ate and further redesigns are planned.
I can't say I'm a fan of the coffee they use - Boxer is described by its roaster as beefy and full-bodied but I share the Professor's assessment that, as Gertrude Stein said of Oakland, California "there is no there there" and the tea's a bit weak, too. But the Professor enjoyed two healthy slabs of salmon with a mild avocado aioli and I got stuck into some pork meatballs with a delicious spicy tomato sauce on that big Israeli couscous. Both dishes came at the price you might pay for a big bowl of chips in Ponsonby.
The Louise cake and passionfruit cupcakes were perhaps not as fresh as they might have been but higher turnover will take care of that. Piha Cafe is the real deal - and I hope its few remaining opponents have the grace to drop in sometime soon and change their minds.
The bill
$55.50 for two
Salmon $16
Meatballs $15
Grilled asparagus $4
Cakes (2) $8.50
Tea, coffee (3) $12
Ambience: Brand spanking new
Vegetarians: Plenty of choice
Watch out for: The whistling wind when the door's left open
Bottom line: Worth the wait