Rating: * * * 1/2
Address: 57 Fort St
Phone: 09 300 7252
Cuisine: Middle Eastern-inspired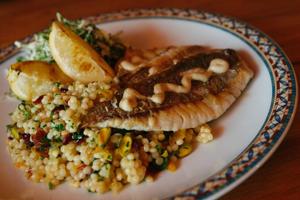 I confess I can't keep up with Yael Shochat. First she opened the fabulous Lunchbox on Shortland St, then she changed the name to "Ima", meaning "mother" in Hebrew, then she closed it down and shifted to Fort St where she re-opened under the name "Ima & Ibn" to reflect her business partnership with the chef.
Now she's going it alone again and is back to just "Ima" but she's staying put at the Fort St address as the busy professionals and apartment dwellers in the area would be lost without their "local eatery".
Ima is a cosy Mediterranean cafe/restaurant open from breakfast to dinner, though I'd only visited for my morning coffee and raisin toast and gruyere cheese breakfast.
Sweet sister and brother-in-law needed a night off from the kids so we all decided to venture forth to Fort St to try Ima's dinner menu.
We were greeted by the evocative aromas of Middle Eastern cuisine as soon as we walked in - cinnamon, cumin, garlic and the sweetness of rose water and fruit being cooked.
We immediately selected some starters - the mezze platter for two and the lamb kubeh (kibbeh).
The mezze platter was one of the best selections I've had - olives, hummus, baba ganoush, peppers, labneh, cauliflower, pickled cucumbers, all served with warmed flatbread. The baba ganoush (eggplant dip) was divinely smoky, proof the eggplant had been char-grilled properly before being mashed into dip. Another highlight on the plate was the cauliflower which had been baked with tahini and sumac, that wonderful, slightly tart, lemony spice.
Lamb kubeh (or kibbeh) are usually little torpedo-shaped meatballs made with a bulghur wheat crust and meat filling. These were more the size of small cannonballs. Biting into them was a joy - the crunchy outer shell gave way to a soft, meaty filling spiced with cumin and pinenuts. Paired with a cucumber and minted dipping sauce, these morsels were the bomb.
The service at Ima is exceptional and special mention goes to our waiter for his fabulous service, in-depth knowledge of the food and wine, as well as his Hugh Grant looks and demeanour. We enjoyed his dry wit and ability to pitch his banter so that he added to our evening of entertainment.
The brother-in-law chose the lamb couscous for his main. This dish of slow-cooked chunks of lamb combined with merguez sausage, braised fennel, sweet carrots and spices was tagine-like - rich and aromatic - and served on a pile of couscous spiked with dried fruit. The sister always orders well and tonight was no different - her market fish, she reported, was sensational. A snapper fillet, skin on, coated in tahini, pan-fried and served with Israeli couscous (that's the larger, pearly grade of couscous) and fennel salad. This dish was well thought-out and the flavours balanced each other perfectly.
I was swayed by the chicken special being offered by Hugh Grant. A mixture of shredded chicken (free range), prunes, pinenuts and spices was encased in chicken skin that had then been painstakingly sewn by hand to form a large pouch. Not the most attractive dish but the blend of spices, meat, fruit and nuts was delicious. Served on mashed potatoes and with green beans this was a more than generous portion. It did need some help from the salt department, as did most of our meals, it is fair to say.
Desserts were almost out of the question, thanks to the generous servings of our mains, but we managed to find some room. Ima's icecream is made on the premises and the flavours we tried - black doris plum, pistachio and peanut brittle - were outstanding. Our other dessert selection, the knafeh, was described as a circle of thin threads of pastry (it looked like vermicelli) assembled with a layer of cheese in the middle, warmed and drizzled with rosewater syrup and chopped pistachios. On hearing the description, my sister and I exchanged the look that says "How can we not?" The brother-in-law, having witnessed the volume of food we had consumed already, gave us the look that says "Are you serious?" Syrupy, fragrant, crunchy - it could only be described as bliss on a plate.
Ima works incredibly well as a dinner option. Shochat's food shows her usual attention to detail, flair for traditional Middle Eastern food and her exacting standards when it comes to the preparation and quality of ingredients used in each dish. I'm pleased she's found her feet in Fort St.
From the menu:
Mezze platter for two $25, Lamb kubeh $16, Market fish (snapper) $25, Lamb couscous $26, Chicken special $32, home-made icecream $12, knafeh $12.
Drinks: Fully licensed; we enjoyed glasses of Arcadia bubbles $10, Brookfields chardonnay 08 $9, Rockbare GSM 06 $11, grappa $6.50.