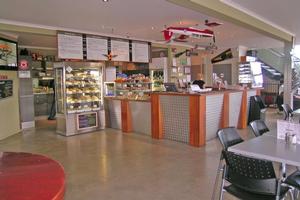 Rating: * * * *
Where: 8 Jean Batten Dr, Mt Maunganui
We came here because we were visiting the museum and first needed to satisfy ravenous teens.
Parking was easy - a sizeable carpark out the front.
We walked in and immediately thought the cafe blended in perfectly with the aero theme - from the aluminium panels around the counter to the vintage aircraft models hanging from the ceiling.
The menu was fairly standard, but the cabinets were chock-full of tempting savoury and sweet fare.
We ordered the Avgas big breakfast of bacon, eggs, sausage, hashbrowns and tomato on toast - which came with a hot drink or juice ($15), bacon and egg pie and salad ($10.50) with a side of fries, eggs benedict with bacon on potato mash ($14) and creamy mushrooms on sourdough with grilled tomato ($14.50) with a side of bacon. All good.
The service was very friendly and helpful.
The coffee was excellent, and came served with jet plane lollies on the side - a brilliant touch. The hot chocolates were similarly appreciated, with large marshmallows as an accompaniment.
We recommend if you come here enjoy a visit to the museum, then head on down to the Mount.
Overall we thought Avgas has got the equation right. Even if you're not an aviation nut, the food is great.