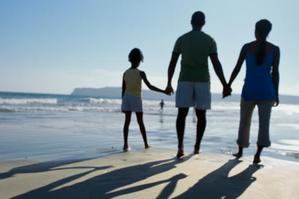 Dads want and need four weeks paid maternity leave.
Dad being there for those precious first weeks is essential to the future well-being of their off spring. Yeah right, pull the other one daddy-oh.
You'd do anything to get a few more weeks off a year wouldn't you?
Lets face it, those first weeks - and many months there after, in fact - are all about the booby. Or the milk bottle for those not breastfeeding.
So don't try using the bonding excuse to get a few more holidays.
If you haven't already heard the Supporting Kiwi Dad's survey found almost half of Kiwi fathers were unable to take paternity leave when their children were born. Because of this the Families Commission reckon dads need four weeks parental leave all to themselves as opposed to the existing two weeks unpaid leave (or mum transferring some of her leave to them).
But apparently, according to statistics from this year mums are being very greedy, and only a small fraction (around 1 per cent) transfer their leave.
What the crikey? Come on mum.
It's understandable though. There is no way us dads can compete with the bond between a new born and their mum - they have been inside that tummy for nine months, heard her voice constantly, and has the right apparatus to fulfil their needs.
Don't get me wrong, I would have loved to hang at home for the first four weeks when Mia was born and get better acquainted with her while getting paid for it. I remember from that time how amazing it was to hold, cuddle and play with her, but daddy-baby bonding was reasonably limited because of the power of mum.
I was of most use doing chores, changing nappies, and getting up at night to tend to little princess. It's often harder having a new born in the house than dealing with the daily grind.
The reality is, and sorry dads, we are out of luck on this. Yes, a dad's role in this modern world might have changed and a father figure in a kid's life is important but the government will never go for it because it is simply too expensive. So get back to work and do your bonding on the weekend.
Scott Kara
Pictured above: Photo / Getty Images