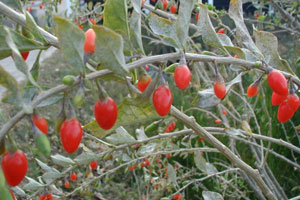 I did a garden tour fund-raiser for the Fire Department recently and without exception the best vegetable gardens I saw were the ones surrounded by walls, hedges or trellises. In our climate, veges need protection from buffeting winds.
It got me thinking about different ways to shelter the edible garden. Feijoa hedges are good, as are lavender or upright rosemary. If you are after a new, strange and productive windbreak try a goji berry hedge. The plants will be loaded with little red berries throughout summer and autumn within five years.
Goji plants originate in the Himalayas and are tough, growing in a wide range of conditions. The plants are deciduous and you can prune them to any shape that suits your site. Goji berries have been used in China and Tibet for thousands of years and, it is said, give you long life and good health.
And if you want to do something different with a very traditional berry plant, grow a gooseberry bush as a standard. That means, prune it yearly so it grows tall, with one main stem and a round top, like a lollipop.
You need cold winters, though, if you want gooseberries.
And for a delicious gooseberry fool dessert, just cook gooseberries with sugar. Sieve the resulting pulp. Add whipped cream and toasted almonds. Done. Yum.