Address: 25-29 Taranaki St
Ph: (04) 385 6650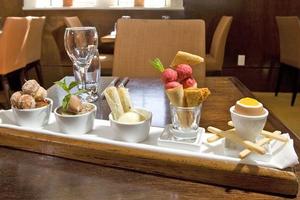 If it were in Auckland, the former police station would probably have been bulldozed to make way for apartments (whatever happened to flats?) or offices.
Luckily, this is Wellington and the cop shop has been restored and turned into a restaurant and cocktail bar, complete with original staircase and kauri banister. What an excellent idea it was.
And so is Zibibbo's take on tapas. We all know about tapas - little dishes of olives, potatoes in tomato sauce, meatballs, tiny lamb chops and so on - to be eaten while a glass or two of wine is imbibed. But not at Zibibbo.
There the tapas included saffron risotto balls, tempura prawns in gazpacho, ceviche with noodle salad, smoked fish rillette, chicken liver pate with fig jam, and more, including olives with rosemary and garlic.
The tapas were served in nine wee ramekins, arranged in rows of three on a beautiful platter. Our waiter knew what was in each, and could recite them in order. Janice and Bill squabbled politely over the tapas, while I sneaked unattended bits.
This was after I cleaned up a freshly cooked whitebait fritter entree from the specials menu.
The fritter was as it should be, full of fish and light on batter, crisp and delicate, and served with aioli and capers. Bill followed his starter with fish of the day, tarakihi, which came wrapped in parma ham and accompanied by a fennel and capsicum salad. He cleaned up every last bit.
Janice had another of the specials, asparagus with parma ham and a blue cheese sauce. The asparagus was wrapped in tubes of pasta, a fiddly but effective arrangement, but the sauce was very rich, to the point of overpowering. I had the confit duck leg with duck sausage and green peppercorn sauce, again beautifully cooked and presented but again very rich. The sausage was a tad salty.
Our waitress, Hilary, advised ordering side dishes, so we had wilted baby spinach with lemon and capers, and roasted beetroot with blue cheese and walnuts. They were both stand-outs.
A much-needed breather, and then on to what are listed on the menu as Final Flings. Janice had been to Zibibbo before, and knew about the dessert tapas.
They arrived after a suitable delay, and were stunning. The piece de resistance was the mango egg with shortbread - a well-cleaned eggshell (we were assured) with its top sliced off and filled with mascarpone and cream, topped with a blob of mango puree. It looked just like a boiled egg.
Second place-getter had to be the tiny icecream cones topped with tiny balls of strawberry sorbet, and third place went to the crackling creme brulee with tamarillo. Fantastic - a visual and taste treat.
The fitout at Zibibbo let it down a bit. The lighting plan meant that although we could see what we were eating, some diners were in the dark, and the large square light shades didn't seem to be in quite the right place. But the food was spot-on.
Zibibbo executive chef Adam Newell has a Michelin star, one of only two in New Zealand, and it shows. It is a very good restaurant.
Rating out of 10

Food: 9
Service: 8
Value: 8
Ambience: 7
Our meal: $244 for three starters, three mains and a shared dessert platter, five glasses of wine and one beer.
Wine list: Extensive, with plenty of local choices, along with Australian and European wines. A good range of beers.
Verdict: The staff are friendly and knowledgeable, and the food is imaginative and well-presented.