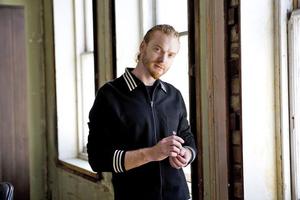 The simple but bold new identity work of Auckland's newest department store - brilliantly called The Department Store - is the brainchild of graphic designer Brogen Averill. Think signage, invitations, shopping bags, light boxes, the website and more. Averill was formerly based in France but moved back to New Zealand to establish design agency Thing and recently joined design consultancy Insight Creative as a creative director. As well as working
with the dream team behind The Department Store (which includes, among others, Karen Walker, Stephen and Lucy Marr and Simon James), Averill has worked on creative for well-known brands including Steinlager, Nike, the European Football Cup, South Gin, To Sir With Love, and Karen Walker Paints. Averill's aesthetic ranges from European industrial furniture to Bauhaus modern, with an appreciation of design in various forms - he tells us more about it.
10 favourite things
1 1950s chairs
This is a chair I found in Amsterdam; I have two of them. The designer is unknown - at least to me and anyone I've ever spoken with. They were designed during the Dutch design movement of the 1950s that included designers such as Friso Kramer and Gerrit Rietveld.
2 La Maison de Verre book
This is a book on La Maison de Verre - or the house of glass - which was designed by Pierre Chareau. Chareau designed only a handful of works and is/was relatively unknown as an architect. The house is in the centre of Paris and I had the fortune of visiting it. For me it is perfection in architecture. I'd rather own the actual dwelling, but this book is the closest I'll probably ever get.
3 Lamp
I bought this lamp in Brussels. As far as I know it's an American lamp designed in the 20s. I love the industrial form of the design and the movement of the socket joints.
4 Wooden filing cabinet
This is a wooden filing cabinet that doubles as a bookcase. It was originally used in a New Zealand government department. It's not only my favourite piece of furniture, it's also the most practical.
5 Texas Instruments LED watch
Designed in the 70s, the time lights up in red at the push of a button.
6 Hand grenade
German hand grenade packaging - a great example of military information graphics.
7 La Pavoni coffee machine
Designed in Italy in the 60s and still made today. I basically crawl to this machine first thing in the morning.
8 Bienaise chair
This is a fantastic example of industrial office furniture where function decides form. Manufactured by Bienaise, I bought this chair in a market in Paris and it's one of a number of pieces I have collected from the same era.
9 Photo of downtown Auckland
A photo of downtown Auckland from - I'm guessing - the 1950s. The Auckland Harbour Bridge isn't present, which was completed in 1959. This is a reminder of how beautiful Auckland could have been before it was destroyed by 80s capitalism.
10 Kaiser lamp
Designed by Christian Dell in the late 1920s. He worked as a foreman of the metal department at the Bauhaus in Weimar. I found this in the markets in Berlin. It's an amazing example of Bauhaus design: rational, functional, beautiful.