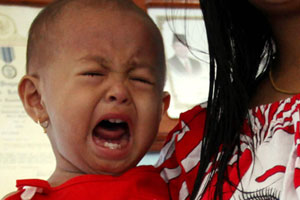 Everyone throws a tantrum once in a while. It's just that kids around two years old like throwing them louder, longer, and more frequently than any other time in life.
In the last two weeks my Mia, who is six weeks shy of the so-called terrible twos and despite what I'm about to tell you is a sweetheart, has started having meltdowns - both in public and at home.
I'm not talking stubborn screaming fits. I'm talking meltdowns for no apparent reason where she turns into a possessed child from a horror movie.
She's down on the floor, fixed rigid in a banana shape, rocking dementedly, or else she's thrashing around on the sofa like a devilish little head banger.
Her most spectacular display came at the supermarket a few weeks ago.
Firstly, she refused to sit in the trolley, wanted to be carried only by her mum, and when we put her down she started grabbing things off the shelves, and running down the aisles hollering.
To cut a long story short I picked her up, carried her out under my arm as she kicked and screamed, and sat down at the far end of the car park so she could walk around.
I don't really care what people think. Kids will be kids, and tantrums are part of growing up. And unless Mia's tanties go on for a sustained period, my wife and I are putting it down to a stage she's going through.
But when tantrums happen, you want to diffuse the situation as quickly as possible for the sake of your fellow human beings and your own mental stability. And you want to calm the little ones down too, and hopefully teach them that it's not okay to behave like that.
Ignoring them sometimes works, although we've found it's best used at home because members of the public will dislike you even more if you're seen ignoring the little devil.
A colleague - who's a dad of three - reckons distraction is the key.
At home there are easy physical distractions like favourite books, necklaces, and the TV (yes, I know, a cop out).
But at the supermarket, in cafes, or other public places, it's verbal distractions that are key, like: 'Can you see the tiger hiding over there?' or, 'which peanut butter shall we buy?'
I can't wait to use the line: 'Did you see the unicorn hun? Look, it just went up the cereal aisle.'
I know you shouldn't lie to your kids, deceive them, or bribe them, but just think of it as a wee diversion.
- Scott Kara
Photo / Getty Images