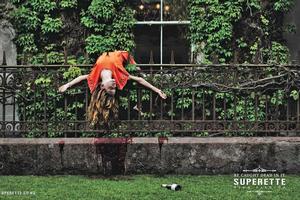 Adverts for an Auckland boutique that feature "dead" models are getting worldwide attention - not all of it positive.
Superette's first campaign, consisting of three posters carrying the slogan "be caught dead in it" has even been critiqued in the New York Times.
One ad shows a woman impaled on a metal fence and another has a rollerskate-clad model lying on a spiral staircase beside what appears to be a pool of blood.
An internet search reveals the campaign already has about 800 references. One said it was "cool", another dismissed it as "shockvertising" and a third said there wasn't enough blood.
New York Times' blog The Cut called it a "very creepy ad" and commented: "The tagline is, 'Be caught dead in it'. Oh man. A pun. We are just dying to shop there now. (Except not, obviously)."
Writing on his blog isaaclikes.com, Kiwi fashionista Isaac Hindin-Miller said the The Cut's lack of enthusiasm was "irrelevant" "because like Oscar Wilde said, 'there's only one thing worse than being talked about and that's not being talked about'."
Superette owner Rickie Dee said the idea behind the campaign was that "if you are actually going to be caught dead in something, wouldn't it be better if it was something nice". The models didn't seem to mind playing dead "despite having to pose in some very uncomfortable positions for some time".
Dee admitted reaction to the New York Times blog had been mixed - "but hey, that's the job of the fashionistas, to be controversial and stimulate debate".
The campaign coincided with Superette opening a second store in Ponsonby.
- HERALD ON SUNDAY