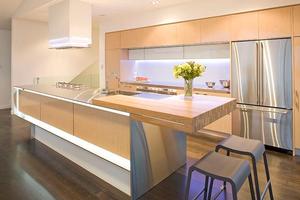 Auckland-based Mal Corboy, who was crowned Kitchen Designer of the Year by the Kitchen & Bathroom Designers Institute of Australia last month, is an enthusiastic cheerleader for the local industry. "New Zealand kitchen designers, we're some of the best in the world. There are some fantastic designers here in Auckland," he says. "Too often people get hung up in having an imported European kitchen because they think it's the best. Well, I took a kitchen to America and the guys are blown away by the quality we achieve."
He recently designed a kitchen for the multimillion-dollar Hollywood home of a professional poker player whose wife had seen Corboy's work in a magazine. The kitchen was manufactured in New Zealand, shipped to California and installed under his personal supervision. "I said to the client: 'It's like bringing Las Vegas to Hollywood'. It's all done in shocking pink glass and we've got lighting everywhere and she's got some fantastic appliances."
While the streamlined layout and seamless surfaces of Corboy's kitchens initially suggest an unswerving simplicity, the essential "bit of bling" adds a high degree of theatre and individuality.
He uses chandelier range-hoods, LED strip lighting around benchtops and has fleur-de-lis patterns and other images printed on to glass. Concealed lighting delivers an otherworldly luminosity at dusk. Vibrant colour often features; Corboy's portfolio includes blue, orange and turquoise kitchens as well as "a couple of pink ones".
The 47-year-old is a certified kitchen designer through the National Kitchen & Bathroom Association but it's his creativity and sense of drama that set him apart. "I've always been a believer that you've got to try and create a bit of a style that you call your own. Because if you create that style and you continue on with it you will get a following. People will either love it or hate it but you just won't be bland and anyone," he says. "I think anyone can be taught the principles of design but to have a flair and to express your own individuality is quite different."
Corboy, who designs about 25 kitchens a year, operates at the top end of the market where the price for a kitchen starts at $50,000 excluding appliances. "Maybe that will include some of the design fee maybe it won't, just depending," he says. "It can go up to anywhere really. I wouldn't like to say what the limit was; there isn't one."
It seems clients are unfazed by the financial outlay involved; Corboy has remained busy even through the recession. He's discovered, too, that sometimes high prices are interpreted as a sure sign of quality. "I find with working in America, for instance, if they think you're charging too cheaply they think there's something wrong with it."
A down-to-earth philosophy and affable manner keep Corboy grounded, ensuring he's never carried away by sheer ambition and artistic imperatives. "I don't get hung up in that the kitchen has to be my way or the highway. Meeting what the client wants is the most important thing, then bringing my signature into it," he says. "I think the main thing is when you're dealing in that end of the market, you don't disappoint people."
Corboy keeps his approach fresh by absorbing a wide range of international influences and cutting-edge work at every opportunity. The prize for his latest accolade is a trip which takes in Eurocucina 2010, a trade show in Milan. He derives inspiration from avant garde designers with "really funky ideas" as well as in contemporary furniture, textiles and the interiors of "cool hotels" - such as Philippe Starck's SLS Hotel in Beverly Hills. "Kitchens are some of the last things I'll look at," he says.
His pet peeves are the space-squandering corner pantry, star of many Kiwi kitchens, and "the fact that people are scared to go outside of the beige on beige on beige. You don't have to be smart to do a beige on beige kitchen."
He often specifies Corian as a work surface. "It would be my favourite material. It is an eighties material but it's really found its niche again because of the minimalist look that we now want. It's really durable and we can do a lot with it; we can cantilever it and mould it and all sorts of things."
Since shifting to New Zealand in 1988, Corboy - who initially trained as a cabinet-maker in Perth - has designed kitchens for homes from Kerikeri down to Queenstown and also in Queensland. Following the Hollywood commission, he hopes to continue introducing his work to the rest of the world.
Corboy thinks professional kitchen design is slowly gaining the recognition it deserves in New Zealand despite our DIY heritage. "We're getting there with people respecting designers' ability and what they can achieve but we've still, in some ways, got this little bit of number-eight-fencing-wire mentality," he says. In which case, there's no one better positioned to help divest us of this attitude than the award-winning Mal Corboy - international man of kitchen design.