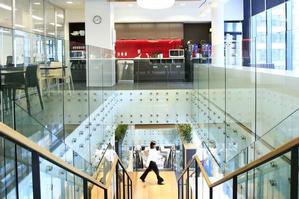 One of New Zealand's most valuable art collections has been assembled in a room at the BNZ's new national headquarters in Auckland.
The bank has just started moving staff from 125 Queen St to the new $200 million Deloitte Centre, almost directly opposite, at 80 Queen St.
Brookfield Multiplex developed and owns the bank's new tower.
BNZ external relations consultant Vasantha Naidoo said the art collection had been assembled in the tower's lower level.
The collection was amassed over many years and was valued at millions of dollars, she said.
So far, 15 paintings are up but more will be shifted into the tower as staff move over the road.
The public will not be able to see the paintings. Access to the secure area on level seven is staff-only.
On Monday, the bank opened its new flagship retail branch on the ground floor of 80 Queen St. Staff have now moved into levels one and two of the tower.
By the end of next month, 750 people will have moved, taking full floors up to level eight and with a three-level foyer entry on the Queen/Shortland St corner.
Deloitte will take the rest of the 21-level building and has naming rights.
The two shifts are the country's latest large corporate relocations.
For many years, the bank has occupied the 26-level tower at 125 Queen St.
Owen Loeffellechner, the bank's security strategy manager, said the new Queen St branch was unusual.
Tellers were not behind security screens and layout and furniture were different from those in more traditional bank branches.
Vasantha Naidoo said recycled rubber flooring had been laid in the bank's commercial areas. Kitchen and stair tread flooring had been made from recycled tractor tyres, she said.
The building has scored 63 points under the Green Building Council's green star rating.
This makes the block one of the country's most environmentally friendly.
TREASURE TROVE
BNZ's level seven art collection includes:
* Ralph Hotere: Towards Aramoana (Black Window) 1982.
* Colin McCahon: O let us weep (1969).
* Laurence Aberhart: Disused Anglican Church, Pawarenga, Whangahape Harbour, Northland (1982).
* Laurence Aberhart: Angel over Whangahape Harbour, Northland (1982).
* Fiona Pardington: Oracle (1987).
* Gordon Walters: Untitled (1955).
* Toss Woollaston: Earth/Earth catalogue (1971).