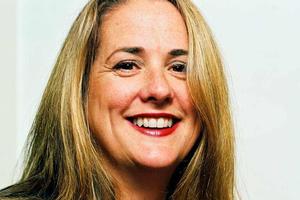 "I always knew I'd end up in fashion," she announced. "I guess it was obvious from the start."
My 11-year-old daughter had just seen The September Issue, the brilliant documentary which follows Anna Wintour, the editor of American Vogue, and her much more talented magazine creative director Grace Coddington, through the production of an issue.
I had seen my daughter laugh and cry during movies before, but never had I seen her become so completely absorbed that you could hear a pin drop in her head and then leave the theatre with her mind made up about her future career path. And yes, she has been reading Teen Vogue since she was 5.
"Oh, if only I could go to Fashion Week," she pondered, staring determinedly out the car window in the manner so recently observed of Anna Wintour in her limousine.
Her father and I looked at each other warily.
"It's happening again," he whispered.
We have five children between us and so far the four older ones are all artists, musicians, writers, although one is currently exploring being a Spanish-speaking historian so is obviously striving to be the individual in the family. They have all, at one time, sat in the car on the way home and announced their passions in just the manner of their youngest sibling.
I guess, secretly, we were hoping for a rebel among us who had a passion for accounting.
"You guys used to get tickets to Fashion Week, didn't you?" she tried again from the back seat.
"That was when we were magazine editors, and actually your mother was a tabloid editor so she never got invited anyway," my husband informed her.
"You haven't got a chance, but we will buy you the September issue of Vogue if you're good." She cheered up immeasurably.
But not as much as she did when, a few days later, a lovely friend offered me some tickets out of the blue and I informed my daughter that she would, after all, go to the ball.
Some mothers might be faced with a tween daughter demanding the very best of high fashion couture for such an occasion and be dragged around High Street with their credit card for hours on end. But not I.
"All sorted for something to wear?" I inquired.
She emerged from a pile of clothes on her bedroom floor and mumbled something about having it all worked out and not to worry.
I picked her up from school to take her to the Nom*D show and within seconds she had rolled up her school uniform shorts, whisked off her uniform shirt to reveal a white lace singlet, grabbed one of her older sister's old op shop jackets out of her school bag and released her hair from a ponytail.
"Ready!" she announced. No designer labels for my little fashionista.
The show was fascinating and layered and beautiful, but I couldn't see someone like myself wearing any of it.
"Would you wear anything you just saw?" I asked the 11-year-old going on Anna Wintour.
"I'd deconstruct a few pieces and go from there," she said knowledgeably. "Great use of fabric, and a nice hint of colour on the mainly black and cream pallet."