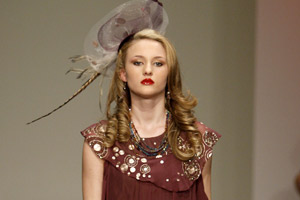 It was a Dynasty meets Euro-Trash moment when Basquesse showed leopard skin strapless dresses and pants suits with sequin detailing.
Throw in fascinators, organza skirts, gold mesh lace and a remarkable cape made of leather pieces linked with jewelled beading.
Occasion dressing certainly, and rather hard to imagine on the diplomatic circuit in Wellington, where Peruvian-born designer Viviana Pannell resides.
Tweed suiting was smarter, but layers of leaf-look skirting with a sequin-trimmed top were two decades too late.