Address: 114 Ponsonby Road
Phone: (09) 360 8803
Website: longroom.co.nz
Cuisine: Bistro and bar food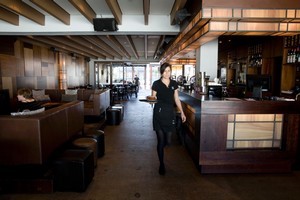 With all the talk of Air New Zealand Fashion Week coming up and spring feeling like a stayer, I'm keen to get out among it. What better way than to rock up to Ponsonby, buy a new designer frock and check out the latest bar and restaurant with my lover.
Food lover that is. The cameraman and I have been having a food affair since we met a year ago. Tonight we're planning on indulging our passion for food at Longroom on Ponsonby Rd. This place is so new the skillsaws are still screeching when we turn up at 6.30pm on a Tuesday.
You'll remember this place as the old Safari Lounge but you won't recognise it. The fit-out is impressive. The three owners have 35 years of bar and restaurant experience between them and it shows - good lighting, simple design, great layout. The staff pitch their services perfectly to meet our every need throughout the night.
At first glance the menu features quite a few of the dishes that I'm getting tired of seeing - salt and pepper squid, pork belly, deep-fried risotto balls - but I needn't have worried.
Chef Ben Smith knows what he's doing and the food here is not pedestrian in any way.
Settled at one of the high bar tables, we order bar snacks of half a dozen tempura oysters and pork belly.
The oysters are served balanced in their shells, drizzled with thousand island-like dressing and finished off with grated pickled ginger. The batter is too heavy to qualify as a true tempura but that doesn't matter one bit. It is crisp, golden, non-greasy and a perfect vessel for our plump oysters.
The pork belly is not the usual slow- cooked, crackle-topped square. Longroom's version is far more stylish. Freedom Farms pork is cured in miso, baked, thinly sliced and served with a sprightly salad of red onion, spring onion and celery. Good clean flavour.
We move to a table, order wine (Piper Heidsieck for me, Peregrine Pinot Noir 07 for the cameraman) and settle in to sample the full dinner menu. I feel a bit unadventurous ordering the goats' cheese and caramelised onion tart but I must have had a premonition. It is incredible.
The Longroom version cleverly cheats on the construction of the tart and assemble it to order using par-baked individual tart shells (I'm willing to bet the pastry is made on the premises), which are then filled with spoonfuls of dark, richly caramelised onions and topped with a generous round of goats cheese. The whole lot is baked to melting perfection.
The cameraman's choice is also superb; wild mushroom tortellini with pasta parcels so tender and melt-in-the-mouth, they must have been made fresh that day. The mushroom filling, with its earthy tones, is a perfect match for his wine choice.
We have barely bade farewell to our starters when our mains arrive, but they are a tad disappointing. What lets them down is portion (or should that be "proportion") size. My seared snapper fillet appears stranded on a mountain of chive and potato mash while the cameraman's duck leg, served with sesame greens, is dwarfed by the accompanying kumara mash. The result for both dishes is that the stars of the show, the snapper and the duck, get lost. Both are overly seasoned too, and I am someone who loves salt.
We order desserts because finishing on a mediocre note is definitely not our style and are glad we did. The hot chocolate fondant served with berry icecream is outstanding, rich and bittersweet and its baked crust gives way to a molten liquid chocolate centre.
The vanilla bean creme brulee is served with warm strawberry fritters - jammy, juicy and a reminder that summer's not far away.
I've been waiting a long time for something like this to open in Ponsonby - stylish but not intimidating, big enough that it's not a crush when it gets busy and where the food is as important as the booze.
Is it more bar than restaurant? I suspect on some nights it may veer off in that direction but they appear to be keeping the focus equally on the food at this stage. Well done Longroom, you've done Ponsonby proud.
From the menu: doz tempura oysters $15, miso pork belly $9, wild mushroom tortellini $14.50, seared snapper $27, confit duck $28, creme brulee with strawberry fritters $12.
Drinks: Fully licensed, cute cocktails from $12, decent wine list with good selection of wines by the glass.