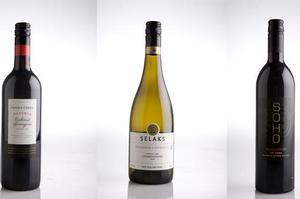 Once upon a time, wine was largely made by small vignerons on their small patch of land; they would send this out into the world bearing the name of its region and somewhere in the small print, that of its producer. Fast forward to today, and the shelves are full of bottles emblazoned with big brand names, a phenomenon that's changed the way the world makes and selects a significant proportion of its wines.
In wine's heartland of Europe, a region was historically the wine's biggest selling point. However, now our most popular wines are sold by their brand name, with the grapes that go into them coming from a variety of vineyards, many of which are not even owned by the company that makes them.
Consistency has been one of the keys to the success of the wine brand, guaranteeing drinkers that what's in the bottle won't vary in quality or style from one year to the next. Wine's once-local focus has also gone global, with powerful brands dominating markets across the world, delivering a soft fruity "international" style tailored to the mass palate.
Critics of brands argue that this consistency has been at the expense of wine's diversity. Regional character is eradicated by reliance on massive multi-regional and now even multi-national blends, while the voices of small individual players are drowned out by the big marketing budgets and traditional styles sacrificed in order to supply the fickle tastes of the market.
But the brand story is not all bad. Brands have played an important part in introducing people to the often confusing world of wine by offering the novice drinker a simple stepping-stone into the category. Being largely well made, if not that distinctive, their growing presence over the past couple of decades has also forced out most of the unpalatable plonk that once polluted the lower price brackets and has improved the quality of inexpensive wines overall.
As people become more interested in wine and are prepared to spend more to satisfy their increasingly sophisticated tastes, it's natural for them to want to know more about where a wine comes from, who makes it, and to uncover an authentic story behind what they're drinking. At this point brand spin doesn't tend to stick, and that makes me hopeful there's still a place and a market for the handcrafted wines produced by passionate people who offer the real excitement in the world of wine today.
CASE STUDIES
Brands offering something just that bit different.
Aussie classic
Jacob's Creek Reserve Cabernet Sauvignon, South Australia 2006 $19.95
With 2 million glasses drunk around the world every day, Jacob's Creek is not only one of the better mainstream brands, but one of the world's biggest. While most of this will be its standard range, this decade saw the label introduce its weightier, but well priced Reserve range to encourage drinkers to trade up. The cabernet in this line conjures up the variety's classic juicy blackcurrants, seasoned with cedary spice and structured with a touch of tannin. (Widely available from liquor retailers and grocery outlets.)
75-year pedigree
Selaks Winemaker's Favourite Hawkes Bay Chardonnay 2008 $20.99
This year Selaks is celebrating its 75 year anniversary - not bad going in a world where many labels are here today, cleanskins tomorrow. However, like many well known names it's changed a lot since Marino Selak planted his first small plot of vines in the 1930s and is now owned by the world's largest wine company, the US-based Constellation Brands. It's recently renamed its mid range "Winemaker's Favourite" to inject character into the sometimes impersonal world of brands, and its chardonnay has this in spades, with its ripe stonefruit and rich creamy toasty notes tempered by an attractive zing of citrus and mineral. (From Liquorland.)
Fully loaded
Soho Revolver Waiheke Island 2007 $37.99
While most brands function in the $10-15 commodity sector of wine, there are a growing number emulating the premium path taken by luxury spirits and Champagne, whose Grande Marques (literally "big brands") were some of the world's first wine brands. Launched last year, Soho combines stylish packaging with a product sourced from the country's key winegrowing regions made by respected local winemakers. Cable Bay's Neill Culley and Peter Turner made this elegant, savoury edged blend of merlot, cabernet sauvignon, malbec and cabernet franc that has juicy blackcurrant fruit, subtle spice and herbal notes. (From Herne Bay Cellars, Bacchus Cellars, Wine Vault, Liquorland, Fine Wine Delivery Company, Weta Wines, sohowineco.com.)