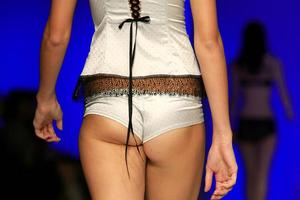 A former New Zealand model, Jenna Sauers, who has been secretly writing a column on high profile New York-based feminist blog Jezebel, has given up her identity - and her career on the catwalk.
Sauers, who wrote the Modelslips blog as "Tatiana Anymodel", developed a cult following with explosive, brilliantly written accounts of what really happens to models in the fashion industry, London's Guardian newspaper reported.
She was originally from Christchurch and a 2003 graduate of Rangi Ruru girls' school, and modelled in New Zealand as a child and part-time through high school.
The New Zealander also holds US citizenship and attended Iowa University on a scholarship. A 2007 university press release said that after graduation she planned to pursue jobs in journalism.
But in her blog Sauers said she moved to San Francisco, got a day job sewing messenger bags and began modelling again. After seven weeks she was in Paris working as a model "a job I suppose I technically started back when my eight-year-old shit-eating grin first graced department store and mail-order catalogues in my home country, New Zealand".
"I knew, when I walked into my new agency, Elite Paris, in September of 2007, that I had found my tribe," she said in her final post.
Sauers spent two years modelling for magazines such as Marie Claire, Harper's Bazaar, Glamour and InStyle, and highlighted in her Jezebel posts the way the modelling world was governed by a moral compass so "screwed up", as she put it, it was frightening.
She was modelling at NZ Fashion Week last September, and said at the time she wanted to be a writer. Asked in an interview about doing an "insider's" book on modelling, she said: " If I thought I could do a good job, that might be a project I'd want to crack".
After quitting the industry last week, she wrote: "I often reflected on the fact that studies show that women, after looking at fashion magazines - full of pictures of girls very much like me, sometimes even pictures of me - feel bad about themselves.
"I also often wondered why it is, given this fact, that we buy the magazines again next month."
The model mole said she was done with the sneaking around and the furtive filing of her columns.
Sauers used her own case to illustrate the dire financial hardships many faced in the profession.
"How, exactly, I was supposed to make a living as a model never became entirely clear," she wrote in her final post. "When I worked (for) two months in Australia last year, after agency fees and the rent were deducted, nearly A$5000 ($6359) worth of earnings became A$690.90.
"I didn't get my A$690.90 - A$413.70, after wire transfer fees and currency conversion - until this April. `At least,' said the agency accountant, `you worked!'."
She also noted the industry's subtle racism and a blind eye turned to sexual harassment: "There's potential for exploitation in any relationship which is based on a 14-year-old girl being photographed by a 47-year-old man".
"I'm coming out now because I figure I've got nothing to lose," she told The Guardian. "I lost heart in the industry; it's as simple as that."
- NZPA