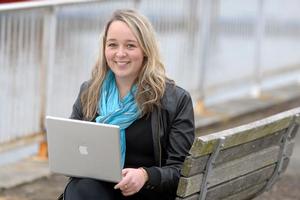 Bronnie Middleton is new to internet dating but she already knows what to look for.
The 25-year-old accounting student wants someone who knows where he's going.
"I definitely look for whether they put anything about future goals or ambitions in their profile.
"If they're not planning to go anywhere, it's not so appealing."
Nicknames that are a bit too cocky - "something like good4u and that sort of stuff" - are off-putting too.
But the real key to winning Middleton's interest? Make her laugh.
"If it makes me laugh or smile, you instantly want to message them because they've got a sense of humour."
Email messages that impress are those that start a conversation or offer more information about the sender.
"One guy messaged me saying I was the bee's knees, and proposed. That kind of put me off," she says.
Middleton, from Auckland's North Shore, has tested the water with a couple of dates in the two weeks she has been searching online. No sparks are flying but she says there is potential for friendship.
However, Middleton says she doesn't really expect to find her perfect match online.
"It's a bit of fun."