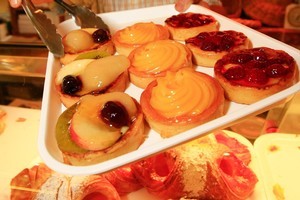 Food tours are a good excuse to be truly greedy without appearing like a slob. You salivate, gorge on platefuls of tasty treats, and then gossip about the best place to buy well-aged hung meat. The dream foodie itinerary might include sucking down new season's piquillo peppers in Spain, nibbling on taleggio cheese in Italy and gorging on moon cakes in Shanghai.
For those desperate to satisfy their gastro-wanderlust but lacking the means, there's always the North Shore of Auckland. Hidden away in semi-industrial areas and bland shopping districts, are some excellent foodie haunts, frequently only detectable by delicious smells wafting down the curbside.
It takes a dedicated foodie to track them down, and Lynn Huhtala from Finding Flavour foodie tours has done just that.
On a rainy Saturday morning, this Canadian-born Waiheke resident has gathered a group of foodies with the promise of experiencing "all the flavours of the world" across the harbour bridge. No passport needed for a nine-destination tour in seven hours.
My most memorable foodie tour was with food writer Sudi Pigott, whose mission is to turn ordinary folk into "unapologetic foodies".
During a tour of Marylebone Farmers Market in London, Pigott delivered a constant flow of juicy foodie titbits - "Ah yes English cobnuts were very fashionable in Victorian times as a savoury course."
Pigott was on first-name basis with the 40-odd producers at London's largest farmers' market, and the owners of such gastro-fashionable places as La Fromagerie, or as she confided, "the place to get Prada for your larder".
As Pigott argues in How to be a Better Foodie, foodies must succumb to epicurean self indulgence. "Our self-avowed route to self-fulfillment is through eating with integrity, bettering our already demanding palate, and feeding our insatiable craving for culinary knowledge ... and discovering the absolutely best place to buy a perfect macaroon."
Pigott talks knowledgeably about the A-list foodie hotspots, and, sigh, it's a globe-trotting tour taking in London, Paris and New York.
Never mind, North Shore's "world-in-one-day" experience will have to do, and the small gathering of foodies, immediately recognisable from their macro-carry bags, look awfully keen to get tasting.
On the way, Huhtala explains how she left the corporate world to follow her epicurean calling and launch gastro tours of Auckland and nearby areas.
"I want locals to experience a different side of their city, one they don't know exists."
The foodie group look perplexed when she stops the van outside a panelbeaters in Glenfield.
Set back from the road, it would be easy to miss Diehl's Bakery, although the queue forming outside suggests it's a hit with the locals.
Owner Ingo Diehl served his apprenticeship near Frankfurt in Germany and he hails from a long line of bakers. For the past 15 years, he's been baking traditional German breads and pastries from his tiny bakery.
"I work with sourdough imported from Germany," confides Diehl, passing over a loaf.
As every foodie detective knows, sourdough should feel reasonably heavy for its size and this loaf passes the test.
"That's my favourite bread. I'd eat it all the time but my wife makes me eat a lot of rice," laments Diehl.
We battle a downpour of rain to reach the "Middle East" of North Shore.
Peering in the meat display North Shore Meat Centre Halal Butchery, Jan is impressed - "It's looks very fresh. I'm going to buy two hearts for my cat."
Tucked in behind the butchery, is Barakah Fresh Food, and the owner proudly shows off his nut-warmer cabinet, pulling out a drawer full of pistachios to sample.
If Lynn doesn't seem to be well acquainted with the owner, she is knowledgeable about the products - "the cheapest place to buy rosewater".
Next on the foodie radar is a Korean Supermarket in Northcote, where I step outside my comfort zone and get some shrivelled-looking anchovies and we all sample Kimchi, a traditional dish of fermented vegetables.
It's clear our group has an appetite for excess after lunch at Albany's La Tropezienne, where the chef surprises Tim, the only bloke, with a raspberry tart for his birthday. "I stopped counting the Weightwatchers points a few stops back, sighs Helen.
We get a sneak look at Crescent Dairy Goats' new cheesemaking room before heading off to "South Africa" in Albany.
Our escort for this leg is Cathy Mellet, who immigrated from Port Elizabeth ("I don't miss the gunshots one bit") and is a fan of Inside Africa and Fred's Fine Foods. It's here our group displays their true gustatory passion, with tastings of milk tart and Koeksisters (deep fried pieces of dough soaked in syrup).
"Back home the church ladies bake them for the fundraisers," says Mellet.
Our whistle-stop ends on more familiar territory in Devonport, with some gastro-chic at Les Pyrenees and Italian gelato at Spooners Deli.
We've been greedy to the final slurp, and discovered new foodie destinations.
"I've lived [on the North Shore] for 30 years and I didn't know where half these places are," confesses Tim.
For more information: findingflavour.co.nz