Address:
34/322 Great North Road, Grey Lynn
Herald Rating: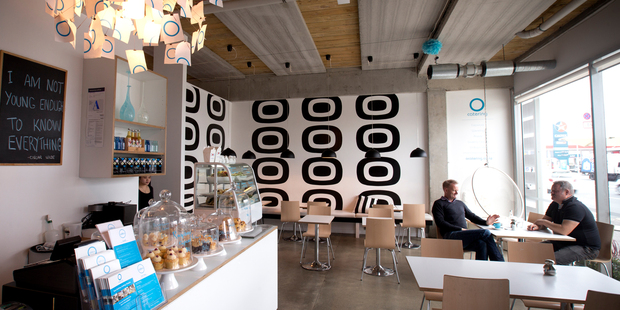 The menu, according to the website, is inspired by local, Pacific and Asian cuisine, however there was little sign of this on the brunch list. The offerings covered just about all bases, making it an easy task to choose our meals.
The decor is a lovely blend of light blue and white - very calming - and big black "O" graphics. The hanging chair in the corner was a cool touch.
We ordered an "O for Awesome" big breakfast ($22) with poached free range eggs on a choice of toasted bread (sourdough for us) with crispy bacon, roasted vine tomatoes, portobello mushrooms, pork and fennel sausage and a corn cake; corn cakes with roasted vine tomatoes, baby spinach, avocado salsa and tomato relish and crispy bacon ($17); pancakes with banana, blueberry compote and mango custard ($15); and potato cakes with a poached egg, asparagus, baby spinach, hollandaise and smoked salmon ($17).
Here, green beans were substituted for the unseasonal asparagus and this worked well.
The food was well-presented and while the poached eggs were just a little too poached, the bacon was crisped to perfection.
The coffee was Allpress and the staff were on the ball, offering it as soon as we set foot in the cafe. Both it and the hot chocolate were top-notch.
The service was friendly and efficient.
Overall we were impressed by O, though more could be done to make a theme of the name.