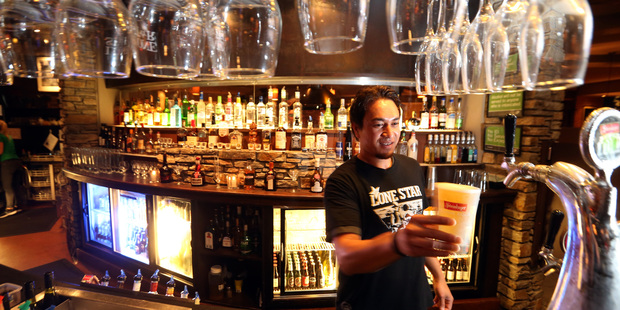 "Mama, don't let your kids grow up to be cowboys," goes an old song, and you can see why that's good advice when you walk into Lone Star.
The walls are adorned with pictures of country stars, most of whom ended up living unhappy lives, and the music tells stories of love gone bad, broken homes and good men done wrong. It's all a little depressing to be honest.
However, once you get over the twangy music and the slightly hokey decor, it's not that bad a spot. Lone Star seems to have cornered the market for country-infused Kiwi-ness, but the New Lynn version seems to concentrate more on the Kiwi than the country.
It's a nice space, as long as you don't mind being surrounded by images of Johnny Cash and Hank Williams, and the front deck is as pleasant a spot to enjoy a beer as any in New Lynn; it's quite a tranquil area to watch the increasingly gnarly traffic flow from.
Service is good, too, prompt and friendly, provided by a young man who is happy to chat while pouring the beers, which are pretty basic, it must be said.
It's a Lion bar, so your choices are a little limited: Steinlager and Macs on tap and a few more options by the bottle.
The wine list isn't comprehensive either, but there is something there for most palates.
Food is a huge part of the Lone Star experience and the menu is pretty huge, in more ways than one. It's a long document, with everything from the basics to the downright complicated, all served with a western touch. The meals are substantial, to say the least, and hearty servings are the norm.
All in all, it's a pretty nice little spot for a beer or a bit of dinner, although the Lone Star logo, "Be Staunch, Walk Tall", confuses me somewhat. What if you're a short person? Do you have to wear stilts? And the staunch thing annoys me a little, too. After all, isn't much of our trouble with drinking the result of people being a bit too staunch after a few ales?
Scores
Service: 3.5
Menu: 4
Drink: 3
Atmosphere: 3
Overall: 3.5