Address:
118-124 Queen St, Auckland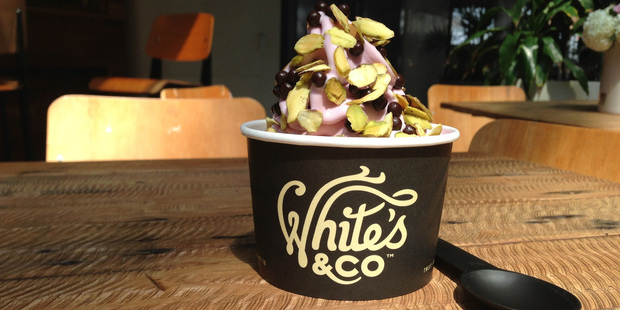 White's & Co has been open in Vulcan Lane for just over a week. We've long been fans of their hole-in-the wall operation at Britomart serving delicious frozen yoghurt with gourmet toppings. This is their second store and looks great.
The menu is based around frozen yoghurt and you can eat it morning, noon or at night.
There are parfaits with fruit, yoghurt and granola for breakfast, fresh yoghurt smoovies for lunch and frozen yoghurt desserts for an afternoon treat.
The look is urban cool. There is seating outside in Vulcan Lane, a great spot for people-watching.
The yoghurt is the best we've had.
It comes in four flavours - vanilla, chocolate, mango and berry - and you can choose from a range of toppings, from the healthy (fresh fruit, nuts, curds and compotes) to the seriously indulgent (handmade lollies, meringue and fudge).
We had the berry yoghurt with compote and fudge, and the vanilla yoghurt with roasted pistachios and Valrhona dark chocolate biscuit pearls. Both were
divine.
The coffee is by Auckland roasters Eighthirty and is very good indeed.
The service is with a smile. The staff seem very happy, and who wouldn't be surrounded by tasty treats all day?
Overall, it's great to have two central city White's & Co to choose from.
The Britomart store is great if you feel like relaxing in bean bags in the sun in Takutai Square, while the Vulcan Lane store is great for yoghurt on the go. We'll be back - a lot!