Address:
Sky City, Auckland City
Phone:
(09) 363 6365
Rating out of 10:
Food: 7, Service: 8, Value: 8, Ambience: 7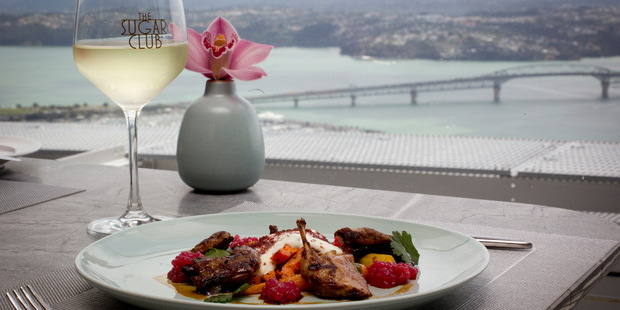 When Sky City's much-trumpeted Sugar Club opened in August, the reviews were not as overwhelmingly favourable as the restaurant's impresario Peter Gordon might have liked. The service, in particular, came in for a little rough treatment and we were interested to see how it was doing now the venture has had a chance to settle in.
It certainly seems someone at the top has taken notice. The staff were uniformly attentive, well-informed and happy to engage with the customer. If anything, the act verged on the over-attentive and our satisfaction was checked by at least three different levels of attendant. But the evening ran in a very smooth manner from arrival to departure. Certainly you emerge feeling pampered.
The decor is stylish art deco and the outlook from the 53rd floor is without challenge. We dined early, giving us the chance to see both a spectacular sunset and the transition to the city night lights, which transform Auckland's lacklustre buildings into something altogether more romantic.
The menu here is accurately described as a sort of mini-degustation with each dish being small, the idea being you have two or three of the savoury offerings and then top up with a dessert. They are priced accordingly, starting at two courses for $68 up to six for $132, with the recommended four coming in at $105. This means that if you drink with discretion you can enjoy a pretty high-end dinner without bending the plastic beyond reason.
The food itself is typically Peter Gordon, with Asian fusion being the hallmark. This style, once revolutionary, is now standard and while we enjoyed most of it, there was little that was going to make us rush off to tell our friends "you must try this great dish".
I started with a laksa, more than a cut above the food hall variety, with a spiced, smoked flavour subtle enough to let the taste of the duck and other ingredients come through.
My next choice, the cinnamon quail, was beautifully presented, with the grilled bird full of flavour, although the gingered carrots were a bit of a mess and the bland plum tapioca seemed a little pointless.
I had proposed to move on to the lamb rack with what sounded attractive cumin accoutrements but our charming waitperson drew my attention to a Gordon signature offering, the beef pesto. This was exactly what it said - a soy sauce-marinated piece of eye fillet topped with a basil pesto. It was very good, the sous vide approach as usual transforming the texture of the beef and delivering a rich flavour for what was my standout dish. I finished with an excellent yuzu avocado sorbet with a tart citrus finish accompanying the creaminess of the coconut tapioca.
My companion's procession of dishes started with a fine seared yellow fin tuna accompanied by a Bluff oyster in batter. The following saffron linguine with crab, pine nuts and parmesan delivered an appealing flavour but the texture seemed lifeless and was visually less than appealing. The roast five-spice duck was rich and well balanced with a smoked polenta and eggplant salad, but the duck liver pate cone was underpowered. This charge could not be levelled against the densely rich chocolate star anise mousse cake with delightful grace notes of poached tamarillo and a honey yoghurt cream.
Despite its initially lukewarm reception, business seems booming at the Sugar Club and we were able to get a table only for the third of our preferred dates. We were surrounded by diners obviously out for a special evening and I'd place a large bet that most were happy that that was what they were given.


Our meal: $286 for two four-course meals, five glasses of wine.
Our wine: A good and varied list, with a particular nod towards Waiheke Island offerings.

Verdict: An elevated position matched by the service and style, with the food almost getting there.