Address:
Roukai lane, 48 customs St East, Britomart, Auckland City
Phone:
(09) 309 5854
Rating out of 10:
Food: 7, Service: 8, Value: 7, Ambience: 8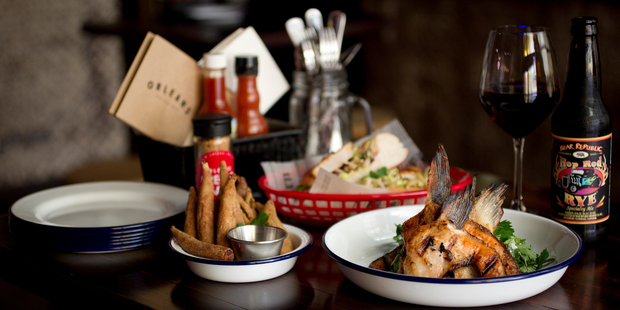 A hot steamy night. The clink of ice in the mint juleps. Pulsing music. The smell of gumbo and blackened fish. Ah, yes, all the elements we know and love from the works of James Lee Burke and other practitioners of Southern noir. But unless you have been lucky enough to hit Louisiana on your travels you will, like me, know of these delights only in theory.
Now Orleans bar and restaurant has opened in another effort to translate this hothouse atmosphere in reality to Auckland. On our visit the city wasn't playing along and the icy wind whistling up Roukai Lane and the cold drips of rain falling from the awnings didn't do much for the vibe.
This lack of co-operation from the weather apart, Orleans made a pretty good fist of providing a frisson of Southern flavour. We were early and the place was packed and we were told we'd have to wait half an hour for a table for four. This was not much of a hardship as we sat outside and downed a very acceptable ramos gin fizz with a musical background of the right variety. The table did become available as promised and we were led inside into an appealing informal dining room, formerly Agents and Merchants, but now made over with exposed walls and bits and pieces of Louisiana trinkets and a bandstand at one end.
Live music is one of the attractions here.
We were attended to promptly and efficiently, with the house style amiable without being gushing. The menu is, as one would hope, loaded with characteristic Cajun/Creole dishes. How authentic they are I could not say but they did seem to answer closely to an exposition I once had from a Southern belle when I asked what a po boy actually was.
(For those similarly ignorant, it is just an open sandwich on bread like a baguette).
There are small bowls, large bowls, salads and po boys and we set out to sample a fair selection. The first to arrive was fried okra and it was good - a crisp, spicy shell enclosing the vegetable and served with a cumin lime aioli, setting a high benchmark for what was to follow. No fan of Southern literature could resist collard greens. They came with broccoli and less successful than the okra but okay.
An unexpected standout came with the crackle chicken salad, which packed a really fresh edge with fennel and mint, filled out with black eyed beans. Another dish which earned praise was the andouille sausage jambalaya balls served with "dirty gravy", a typical spiced sauce. The blackened chicken with charred capsicum and the grilled salmon collar both received the thumbs up for their smoky flavour, so the lacklustre nature of the gumbo with a thin sauce was unexpected and the smoked beef short rib was ordinary.
This food, with its rural origins, is not what the nutritionist ordered, although we didn't help by being unable to resist side orders of curly fries and onion rings, both of which were delicious, and it became easy to see why it's predicted two-thirds of Americans will soon be officially overweight.
The portions here, though adequate, are thankfully not of the dimensions which shock and awe visitors to the US. But none of us felt able to tackle the traditional desserts of baked cheesecake, rhubarb and apple cobbler or sweet pie of the day.
Auckland is a long way from the Deep South but in Orleans it has an entertaining venue in which to spend a relaxed hour or two with food that has a touch of novelty.

The Velcro Brothers band were pretty good, too.


Our meal: $163 for two small bowls, three big bowls, one po boy, two salads and three side dishes, plus one beer and four glasses of wine.
Our wine: A reasonable list and well priced with some good cocktails on offer. We enjoyed Chard Farm Central Otago pinot gris and an appealing Mitte Barossa grenache.
Verdict: Busy and bustling with plenty of atmosphere and food to match. Not a place for the intimate supper, particularly if you are next to the band.