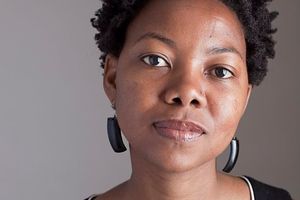 NoViolet Bulawayo was born in Zimbabwe, a year after the country gained independence from British rule. At the age of 18 she moved to Kalamazoo in Michigan. Her writing has attracted awards and acclaim, and her debut novel, We Need New Names, has been short-listed for this year's Man Booker Prize.
This is a tale of two parts, which clash and chime as America redefines Zimbabwe and Zimbabwe redefines America. The first half features Darling (aged about 11) and her group of friends. They have been banished with their families to a shanty during the time of Mugabe's oppressive rule. Food, fathers, education and home comforts are scarce.
As Darling says, "Paradise is all tin and stretches out like a wet sheepskin nailed on the ground to dry."
It is her voice that gives the book such verve - hard-edged, probing, moving, passionate. We follow along on the forays to steal guavas from the neighbouring affluent suburbs and the inventive games conjured out of nothing ("find bin Laden").
As a child, Darling doesn't see the complexities of political argument, but you can see politics bubbling away in her appraisal of the world. Blacks had bulldozed their homes, to their great surprise, but previously whites had done the same thing. Or her view that it is better to steal small things you can hide rather than big things you can't hide (like a whole country). The political catchword that seems to matter, like a talisman of hope, is "Change!"
When she moves to America to live with her aunt she understandably experiences a culture shock. Darling had built up an America in her head that was a dream place. When she arrives she is trapped inside because of the snow and she loathes the way snow eats everything ("It's the cold to stop life, to cut you open and blaze your bones"). Once she steps outside (goes to school, gets a job) she enters a ledger of loss and gain.
Darling's world becomes a little more sophisticated, passionate and political as she negotiates the cultural glut and the differences. What she realises is that, although she now faces an excess of food, activities and objects, hunger can take many forms ("We ate like pigs, like wolves, like dignitaries; we ate like vultures, like stray dogs, like monsters; we ate like kings").
As time passes, her voice becomes more politicised. There is a hunger for what is lost when young people flee in droves from their homeland. Traditions are vanishing - ways of responding to death or preparing food or sharing old stories. America offers much and it offers nothing (can't get into schools, don't have a work visa).
She is reminded that she has left a "country in tatters" but hasn't had the guts or the wherewithal to help mend that country ("And if you leave it burning, do you expect the flames to turn into water and put themselves out?").
This edgy, powerful novel will take you somewhere you have never been before.
We Need New Names by NoViolet Bulawayo (Random House $36.99)