Address:
262 Ponsonby Rd
Phone:
(09) 360 1113
mekongbaby.com
Rating:
3.5/5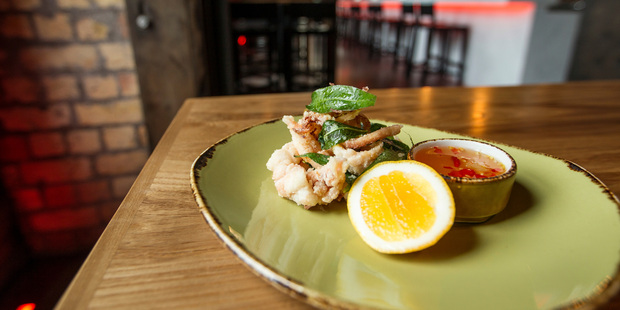 "So you're getting in early before it all turns crazy," the waitress said. Her fixed smile was at odds with the slightly panic-stricken look in her eyes.
"It gets crazy later?" I asked, as casually as I could manage, so as not to sound like an interviewer.
"Nuts," she said, glancing nervously over her shoulder towards the bar that is one half of Mekong Baby (full name: Mekong Baby Eating House & Bar). "You can't move in there."
This is good news for readers who like spending their leisure hours in a bar so crowded as to preclude movement. But if it's conversation you want, you should go early to Mekong Baby.
As it happened, we couldn't get a later booking than 6pm (with an undertaking to be out by 8). The place has been going flat tack since it opened, rivalling the other newcomer along the street, The Blue Breeze Inn, as the hot spot on the Ponsonby Rd dining strip.
One of our party was in a wheelchair, which proved more problematic than it should have. A very friendly waitress hastened to unlock a wheelchair-friendly door a few metres along the street, but by the time we had manoeuvred our companion into position another member of staff had locked it again. When I tried to open it, he signalled me towards the main entrance, and it took my most homicidal glare to persuade him that he ought to reconsider.
In the premises that used to be GPK, Mekong Baby takes its culinary inspiration and its name from the river that originates in the mountains of southern China and passes through Burma, Laos, Thailand, Cambodia and Vietnam. The bar interior has echoes of colonial Vietnam, without the flaking paint (though the dining room has a cleaner, more modern look) but the food derives from all of those countries and more: the goat curry is Indonesian in origin and the chilli crab derives from Singapore.
That said, the emphasis is on the food of the Indochinese peninsula. Rich meats are lightened with astringent greens or fruits; in the matter of spiciness, fragrance trumps fierce heat every time (the red beef curry is positively mild-mannered); and the menu shows a nice balance between the slow-cooked (lamb shoulder, duck) and the quickly tossed-together (squid, prawns, salmon). But if I have an overarching complaint to make about the food, it is that it lacks punch. Chef Ben Convery, a GPK veteran who has also spent time at Molten in Mt Eden, has come up with dishes that satisfy but seldom captivate.
The indecisive can take refuge in a $60-a-head chef's range (you just say "let's eat" and sit back, it seems) but it's not hard to assemble a selection.
I'm not sure I have ever tried betel leaves, which come from the same family as kava and are, when chewed in large quantities, mildly stimulant and analgesic. But a single one made a fine, slightly peppery base for a little hors d'oeuvre of crab and chilli, topped with black beads of salmon roe.
The crunchy squid was less remarkable, though very tender and commendably greaseless: even a sweet-sour nuoc cham dipping sauce failed to lift it beyond blandness. And the same charge may be levelled at a rice flour crepe that formed a sandwich of fried tempeh (soy pattie) and mushrooms. It was less coherent on the plate than on the page and again, required liberal application of an accompanying chilli jam to make a mark.
Two curries (of goat and duck) were mild and delicious and made intelligent use of pineapple and lime respectively to provide a good foil to the meat. The great triumph was the pork belly, now served everywhere and done properly hardly anywhere at all. The version here is devoid of cloying fattiness, yet crunchy on the outside and gorgeously moist within and the accompanying apple slaw is perfect.
I must however warn you clear of what is billed as a lime and ginger panna cotta: it has a texture between Gregg's instant pudding and potter's clay and the taste suggests cheap disinfectant. The Italians should consult a lawyer about taking a class action.
Ponsonby's fashionable and fickle crowd will keep this place busy for a while yet, but it may be worth giving it a couple of months to see what the summer menu might bring.
Verdict: Mild-mannered to a fault