Address: Shop 6, 190 Stoddard Rd, Mt Roskill
Phone: (09) 620 5599
Cuisine: Ethiopian
Rating: 7/10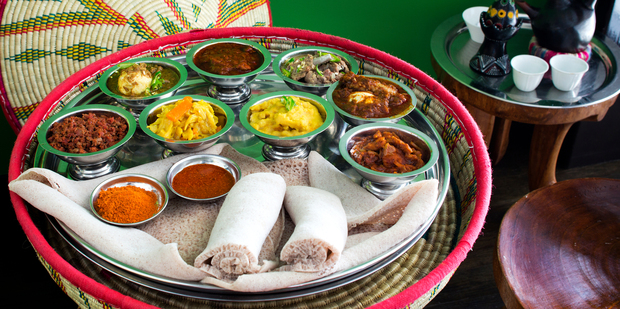 If you're stuck in a rut with dining out, frequenting only your usual haunts and never venturing far from the dishes you already know please you, I have the perfect solution - go to Stoddard Rd in Mt Roskill. The sheer variety of casual ethnic eateries, tucked away in the small shopping centres, newly built arcades and "down the back" of bland warehouse spaces, is incredible. There are treats galore, the latest being Auckland's first Ethiopian restaurant - Cafe Abyssinia.
As you schlep through the tiled thoroughfare of the sterile arcade, your footsteps echoing in the vacuous space of newly established shops, keep going all the way to the end, where the freshly painted walls of Cafe Abyssinia and the wide, beaming smiles of owners Kagnew and Bebeta Asfaw greet you.
Bold colours and emblems of Ethiopia decorate the space - rainbow walls of green, red and gold and images of flag-bearing lions striding proudly across the counter - and as we peruse the menu, we're delighted by how completely foreign the dishes are to us. There are none of the usual names we identify with, like curry or tagine or stir-fry but the descriptors have our mouths watering.
Chicken marinated in lime juice and simmered with onion, ginger and garlic in a herbed butter sauce; cubed lamb slow-cooked with turmeric, garlic and onions until it is "soft and buttery to the touch" ... We want them all but as we put in our order, the waiter grins and says "too much". In the end we leave it up to him and when he returns some time later (they prepare everything from scratch so it takes the usual prep time of any restaurant), tray laden with dishes, we're pleased he overruled us.
Large discs of unleavened bread, enjera, that look like oversized, thin, floppy crumpets, line a tray on which sits an assortment of dishes filled with stews of meat, vegetables and pulses. Some look familiar, like the smooth and soothing chickpea stew and the diced lamb and lamb bones, topped with chopped green chillies, but others are more of a mystery to us; boiled eggs submerged in rich gravies that promise one thing with their deep reddish hue: heat. As we look at the feast before us, the owner comes over to us to act as a guide. After asking our permission, he proceeds to empty the contents of each small bowl directly out on to the flatbreads. We're then instructed to use our right hand to tear and fold small bits of the sour, spongy, dosa-like bread in lieu of cutlery. We may have been able to request cutlery but instead we revelled in the difference, the feelings you have when travelling, of discovery and wonder. We were only in Mt Roskill. It was brilliant.
The flavours of each dish were remarkable; sone scorched our mouths, while others were mild and intriguing. A diced lamb dish was as promised, "soft and buttery", and the simplicity of flavours was marvellous, as was gnawing the tasty lamb bones. Three vegetarian dishes - for those coming off a fast, we learned - were less interesting and the cabbage was cooked in a way I'd forgotten it could be, long and smelly. Enough to send me fasting! I began to see a pattern; those with "wot" in their title or "berbere" in the description should be approached with caution, they are likely to be hotter than hot.
We ordered coffee to finish our meal, as drinking coffee is a ceremony for Ethiopians. But I won't spoil your surprise by telling you how it is served at Cafe Abyssinia. Suffice to say it was an excellent brew.
I've been eyeing up the Ethiopian restaurants in Melbourne, thinking I must try them out. With the arrival of Cafe Abyssinia, the journey has just been shortened.
From the menu: Doro wot (chicken) $15, Kitfo $17, Yebeg alicha wot (lamb) $15, Kai sega wot (beef) $15, Yetsom Beyaynetu $17
Drinks: Unlicensed, go for the coffee ceremony.