A Good American by Alex George
Penguin $37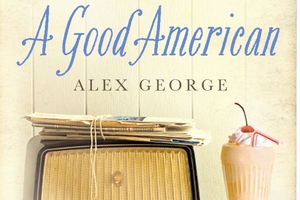 A pretty huge portion of the world's population has immigrants in their recent ancestry, if they're not immigrants themselves. With improvements in global modes of communication since the 18th century, the human race has really got about.
Novelist Alex George's mum was a Kiwi who lived for much of her life in Britain. And George himself emigrated from Britain to America, where he presently lives. So much of what he writes of in his latest, A Good American, draws from personal experience, and from imagining the experience of those near and dear to him.
Frederick and Jette Meisenheimer seek a new life in America at the dawn of the 20th century when Jette's pregnancy out of wedlock scandalises both sets of their strict, Hanoverian parents. Having no English and no real sense of the country to which they're headed, the young couple grope their way from New Orleans toward St Louis, where Frederick has heard there is a community of German expats and one man, in particular, who is happy to hire hard-working compatriots. They never make it. Jette goes into labour during a lunch stop at a dot on the map of America named Beatrice, Missouri.
The rest of the novel describes their setting down of roots as the Meisenheimers become a good American family, as purportedly told by James, a member of the contemporary crop of Meisenheimers. "As the years wash over us and new generations march into the future," our narrator editorialises, "family histories are subsumed into this greater narrative. We become, simply, Americans."
His aunt is wondering how she will be able to love her impending, mixed-race grandchildren who will be different from her, but James sees that "she's missing the point. They'll be exactly like her. They'll be Americans, too - only more so."
You get the picture. A Good American is something of a feel-good epic, spanning four (nearly five) generations. It's not without its charms. The prose is elegant and energetic, and it's hard not to warm to the characters. But as with most sweeping sagas spanning many generations, the characterisation inevitably suffers from the scope: you're only just getting to know and like the patriarch Frederick, for example, when he bows out; Jette is there for the duration, but she fades from an interesting and strongly drawn character into a mere cypher, crowded out by more characters.
And while you care enough about the massed Meisenheimers to mourn their tragedies, the tone of the novel is more than a little alienating. An endorsement on the front cover likens George's style to John Irving's, and it's a valid comparison. But where Irving manages to work strange elements into his fiction in a way that makes them ring true, George often tries too hard for a touch of the absurd or the surreal. He's plainly attempting to strike a note of bitter-sweet, but it all ends up sounding just a little ... smug.
John McCrystal is a Wellington writer