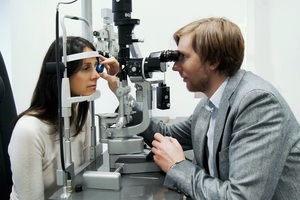 Is it time for a body WOF? Photo / Creative Commons
It won't be any surprise to anyone who knows me well that I recently found out I need glasses for driving. After one little ding too many I finally got around to seeing an optician. It turned out my last appointment was a few years ago and that although my eyesight is not yet bad enough for them to be mandatory, glasses would be a good idea behind the wheel - even though, according to Ben the optician (aged approximately 12) my eyes "were not bad for my age". Cheeky monkey.
Aside from the fact that my sexy secretary specs make me feel like a writer it was a good lesson to be a bit more vigilant on this body stuff. Things can creep up on you. The body changes over time and we might not notice as it's so gradual. Last Christmas I had to have surgery on a swelling on my ankle that I had just been sort of ignoring thinking it was a bad sprain that would eventually come right.
Post MRI that turned out to be a locally aggressive tumour that had grown to the size of a goose egg. Gah! Scared the pants off me. Consequently I have decided the habit of an annual (or six-monthly depending on the age of your "vehicle") Warrant Of Fitness for your body is a principle worth embracing.
Schedule in a comprehensive checkup. Preventive healthcare is so much more effective in the long run. Your happiest life will be best lived in the healthiest version of your body.
It's the one thing we can't replace, and for which there are few spare parts.
The thing is, life is so busy, that it's too easy to put self care and body maintenance on the "I'll do it later" list and before we know it, months or years have gone by without us checking in. You wouldn't do that with your car and you shouldn't do that with your body. A regular Body WOF is a vital happiness task.
Here you go, "later" is now today:
• The last time I went to the dentist was...
• The last time I had my eyes checked at the optician was...
• The last time I had a general medical check up with my doctor was...
• This thing __________ has been bothering me for a while now. I am going to get it checked out with a __________
• I would score my satisfaction with my health right now a __________ out of 10.
• I would score myself for healthy eating in the average week a __________ out of 10.
• I would score my exercise level in the average week a __________ out of 10.
• I would score the amount of rest and relaxation I give my body in the average week a __________ out of 10.
• I would score my satisfaction with how my body looks and feels a __________ out of 10.
• The areas I most need to focus on in terms of improving my wellbeing are...
• I need to schedule check ups with...


Action step
Commit to prioritising what you need to from the above. Diarise this time NEXT year for your next Body WOF check in. This is an ongoing habit of happiness! Look after your body, that's where we experience all our joy and happiness. An energetic healthy body is a foundation component for a happy life well-lived.


Louise Thompson is a life coach, yoga teacher and corporate escapee. For more from Louise, visit positivebalance.co.nz or connect on Facebook.