Don Kavanagh welcomes the return of the cocktail-mixing theatrics in bars.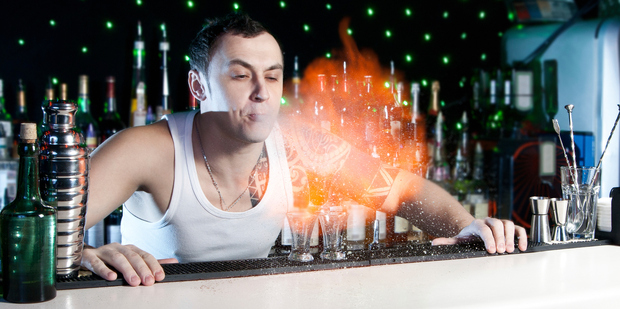 I was reading an interesting article the other day about trends in drinks and one item stood out.
Buried among predictions of vinegar cocktails, downing shooters through a bone after sucking out the marrow and a return of such classy 80s drinks as the harvey wallbanger and tequila sunrise, was a small item about the return of the bartender.
Most of us hadn't noticed that bartenders had disappeared, but the article suggested that personality would be more important than simply having a great mixing brain.
We are blessed with plenty of bars that have embraced the cocktail culture. These bars have been pushing the quality end of the drinks market rather than simply quantity and I am very glad they have been doing so.
I can name 10-15 bartenders off the top of my head who are excellent at what they do and full of personality while they do it.
This makes for a great mix and can make a good night out excellent. There is great theatre in watching a chatty, funny bartender making your drink while describing what is going on and why.
Some bartenders think they are demigods, worthy of our respect and adoration despite having done nothing to earn either. Such bartenders can make a good night miserable and they can also turn people off a bar. While bartenders should have a good knowledge of drinks, flavours and combinations, a personality helps too.
Ideally a bartender is a mix of drinks expert, psychologist, comedian, storyteller and priest.
I'd rather get a good cocktail from a chatty, friendly, funny person than an excellent one from some scowling gargoyle who makes it plain that serving me is somehow undignified for one so special.
Of course, such bartenders eventually come a cropper, because the bar trade is a people trade. If you can't persuade people to come through the door and to stay once they do come in, then you'll have a short career, no matter how good your palate is. After all, a paying public is how a bar makes money.