The hearty warmth of Jim's newest ryes set Don Kavanagh beaming ear-to ear.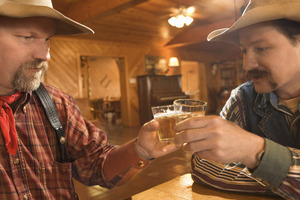 Say what you like about bourbon-distilling giant Jim Beam, it is a company that knows what its customers want.
For years, New Zealand has been fertile ground for Jim Beam and the Beam and Coke combination has been so popular that it is a significant market for bourbon generally and Beam in particular. Kiwis love their bourbon.
Thankfully, so does Jim Beam. Its distiller, Fred Noe, is a descendant of the original Jim Beam and an absolute riot to talk to over a glass of its golden nectar.
The company generally has been assiduous in not resting on its laurels. Many companies with a product as successful and popular as the original Jim Beam would be happy to sit back and watch the money roll in.
But Beam's real success has been in innovative products. Jim Beam Black label has been a huge hit, and rightly so, as has the small batch bourbon collection of Booker's Basil Hayden, Baker's and Knob Creek.
I mention this because I recently had the chance to try Beam's newest release - Devil's Cut - at a small but select bourbon tasting that featured some dreadful characters but some exquisite whiskeys.
The Devil's Cut is different because of its use of water. Ordinarily, cask-strength whiskey is cut to bottling strength with water, but the Devil's Cut is a bit trickier. The water used to cut the spirit is first agitated in the empty barrel, leeching out more flavour from the wood and giving a richer finished product.
It's great, too; very woody and with big, big flavours of citrus, spice and nuts. It's a brilliant addition to the range.
While I was there, I had the opportunity to sample the Baker's small batch edition, something I haven't done for years. The small batch collection quickly became a popularity contest between the Booker's and Knob Creek expressions and they are two very fine whiskeys indeed.
But the Baker's was a revelation. It smelled of hazelnuts, cinnamon and vanilla and it's just so lush in your mouth that it's like drinking a Christmas cake.
The Devil's Cut is available soon and the Baker's is already on the shelves waiting for you. Don't let it just sit there.