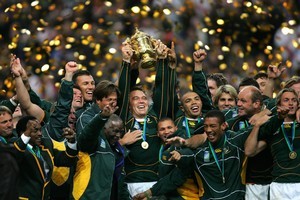 How we won it: South Africa
The solid foundations of South Africa's 2007 RWC success were built out of the rubble of a disastrous RWC 2003 campaign in Australia where the Springboks barely fired a shot on the way to being thumped in the quarter-finals by New Zealand.
It enabled new coach Jake White to start from scratch and he picked a youthful squad for the 2004 international season and when he gathered the players for their first match, he told them: "Look around at each other, you guys are going to win the World Cup in four years' time."
They thought he had been at been at the old wacky baccy. But White's plan was a simple one - pick a nucleus of players, stick with them through thick and thin and play a brand of rugby that South Africans were comfortable with.
For White and new captain John Smit's first test match together, against Ireland in 2004, there was a total of 170 caps in the starting line-up.
Ten of those players were still there for the World Cup final in 2007, and the tally of caps had grown to just under 700.
Interestingly, given the events of the Tri-Nations in 2011, the Springboks of 2007 said a vital part of their World Cup preparation was an intense two-week camp in Cape Town held when a B team was on overseas Tri-Nations duty. Over that fortnight, the players combined intense fitness work with plotting and planning.
The Springboks arrived in Paris with a settled, composed squad who knew exactly how they were going to play.
Smit likened his team's suffocation approach to a "massive python" at work.
"If you get too close, it wraps you up slowly and starts squeezing," he said. "After 50 or 60 minutes the opposition have had no ball, penetration or opportunities in our 22. We have stolen their lineouts, and tackled them backwards. They can't breathe, and then they die."
The Boks were called "boring" by people who saw their performances on a superficial level, and didn't appreciate the subtlety of what they were doing, but the "python" also produced plenty of tries including eight for Player of the Tournament Bryan Habana, the left wing.
As with any team that wins a World Cup, there are some uncontrollables that work out favourably. For the Boks, injuries to two players ended up working out well for the team. They had gone into the tournament hoping that first five-eighths Andre Pretorius' hamstring problem would clear up. It didn't, and Butch James came into the side and ended up having an exceptional campaign. At inside centre, vice-captain Jean de Villiers tore a bicep muscle in the opening match against Samoa, and that proved an opportunity for 20-year-old Francois Steyn, who went on to kick some important goals for the Springboks while giving them a new dimension with his sheer bulk.
That match against Samoa was hugely physical, as were most of the Boks' matches in a tough road to the final, with the pool game against the United States possibly their only respite. They also had England and Tonga, and then Fiji in the quarter-finals.
Tonga famously came within a bounce of the ball at the corner flag in the last second of the game of pulling off a major upset, while Fijii drew level with the Boks at 20-20 at the three-quarter mark of that quarter-final, with all the momentum in their favour, before the Boks eventually won 37-20.
Smit afterwards said: "I'm convinced that the battles we had all the way through the World Cup made us stronger and stronger. The three Pacific Islands teams rattled our skeletons in every tackle they made and it was a contrast to the big yawn the All Blacks had through their pool games, so when they hit stiff opposition for the first time, they froze."
In their second pool match, the Boks had a flawless game against England, delivering an immaculate performance to beat England 36-0, but otherwise they fought all the way through the World Cup. Every challenge they overcame made them more resilient.
"We eventually believed that nobody would get through us," Smit said. "Defence became a good habit. We felt that teams would have to do something special to get through us."
2003
Video: Great World Cup moments - 2003
How we won it: England - A bloody-minded band of brothers
Setting the scene: Mitchell at the helm as England rises
Tournament action: Four more years - the tournament goes on
Tournament star: Martin Johnson - Hard leader of the pack
ABs memories: 'Danger of World Cups is they mean so much'
2007
Video:Great World Cup moments - 2003
How we won it: South Africa - Python applies squeeze
Setting the scene: Henry gets his (first) go at the title
Ref's contentious calls leave nation seething
Tournament action: Boks hold nerve in a Cup of big upsets
Tournament star: Agustin Pichot - Skipper who shamed IRB
ABs memories: 'It was like slow strangulation'
2011
Looking ahead:High stakes in road to redemption
Hold heads high whatever the result
World Cup highlights