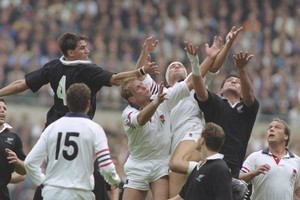 When reflecting on the failed 1991 World Cup campaign, the key try that comes to mind for All Black lock Ian Jones didn't even involve the All Blacks.
As the Wallabies stumbled towards a quarter-final exit against Ireland, their first five-eighths spotted a gap, eschewed the chance for an equalising drop goal and scored a match-winning try.
"A try in the last minute by Michael Lynagh in the right-hand corner. It's funny how the whole thing for us could turn on something like that," said Jones.
"If it wasn't for that last 50 seconds, we could have been playing Ireland and the whole outlook on the All Black team at the tournament would be different. We'd have had the Irish in the semifinal and the English in the final, and we'd already put on a great performance against England in the opening match."
But the All Blacks - even with what Jones felt was their best performance of the tournament - weren't good enough to match the rising Wallabies.
"There were a couple of sensational things that [David] Campese did on that day that were enough to beat us. We didn't play particularly well in the whole of 1991, but I have to say in my opinion the best game we played that year was in that semifinal ... and it simply wasn't good enough."
Australia had grown in confidence since ending the All Blacks' 17-test unbeaten streak at Athletic Park in 1990.
"The win against us the year before in Wellington really gave [the Wallabies] the boost they needed to realise they could compete with us."
Many today say the 1991 All Black team were too old to defend the Cup. But from inside the squad, Jones felt the side had the vitality to win.
"In terms of playing alongside Gary Whetton, Steve McDowell and Grant Fox, I never thought those guys were long in the tooth."
Jones was then 24 and part of a younger generation that would carry the side through the next decade.
He says that even with the benefit of hindsight, it's tough to see where a harder selectorial blade could have been wielded.
"They'd had an awesome campaign and were unbeaten all the way through to 1990 and had only lost two tests [going into the 1991 World Cup]. So a lot of those guys had been bloody good servants of New Zealand rugby.
"We simply got beaten by a better team."
1987
Video: Great World Cup moments - 1987
In the beginning: Remembering our last victory drink
How we won: The All Blacks - Getting the nation back into black
Setting the scene: Long road to global rugby supremacy
A sending off that made Wallaby history
All Black memories: 'Dawn of a new era'
Tournament star: Michael Jones - Keeping up with Jones
Tournament action: Fans' lukewarm start fast turned to fervour
1991
Video: Great World Cup moments - 1991
How we won: The Wallabies - Defeats led to success
Aussie's winning mindset
'Beaten by a better team'
Tournament action: Fitter, faster England level the playing field
After long string of wins it was a bridge too far
Tournament star: David Campese - Campo's golden touch