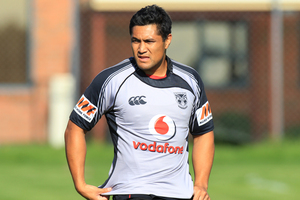 Jerome Ropati recently trawled through some footage of himself playing in the 2010 NRL season to see how he used to play.
Playing is not something the 28-year-old has done much of over the last two years after a horror run with injuries. He played just eight games last season and only three in 2011 after being sidelined by two knee reconstructions as well as shoulder and ankle injuries and a couple of fractured kneecaps.
Ropati is confident his body won't let him down again. Those around him only hope it doesn't. Another serious injury would probably spell the end of a career that started in 2003 and has seen him capped 11 times by the Kiwis.
He's played 139 NRL games, which means he's missed roughly 10 games a season through injury.
"Unlucky?" Ropati ponders. "Yeah, I guess you could say that. But there are some guys, I think, who have been through a lot worse than I have.
"It's actually quite easy. For me, I'm a religious guy. My faith in the Lord Jesus Christ is very strong and the motivation I have used is to not take my job for granted, to be the best employee I can be. Although I'm injured, I'm still being paid and have a role in the team and that was motivating. Those were the things that enabled me to hang in there. It was tough at times, but I think without that I would have pulled the pin."
There was a time late last year when he thought he might have to. It had been six months since his knee operation and he wasn't as far down the road to recovery as he should have been. The team had started pre-season training without Ropati, which affected his state of mind, but he remained committed to his rehabilitation and that eventually led to his NRL return against Melbourne last week.
It wasn't a great game for the Warriors or Ropati. They led the Storm inside the final 10 minutes but conceded two late tries to lose 28-18. One was as a result of a Ropati missed tackle and it came on the back of an earlier one that also led to a Melbourne try.
Coach Matt Elliott spoke to Ropati about what happened, but he needn't have. Ropati accepted he needed to be accountable.
It otherwise blighted a sense of satisfaction for Ropati - the satisfaction that he had made the long journey back to the NRL.
His main goal this season is to "just play footy". His contract expires at the end of the year and there's also a World Cup to target, but both will be by-products of playing to a consistently high standard. To do that, he needs his body to remain intact.
Ropati doesn't feel like he has anything to prove with his latest comeback, which takes another step on Sunday with the Warriors' home game against Gold Coast.
"The only thing I have to prove is to myself, really," he said. "I have had to look back on old footage to see how I used to play, it's been that long. Just to understand the feeling of playing at that level. I have to prove to myself that I can get back to that. I know if I get that right, I will repay the club for having faith in me.
"There was a patch [in 2010] when we were going really well as a team. I looked at the combinations we had and how I was moving. That's the level I want to get back to.
"Looking at that [footage] reassured me that I had it. In the past couple of months I have been reassured that I can get back to that. I'm not fully fit but I'm realistic. I understand my body as it goes through stages.
"It's a subject I know I need to understand a lot more. Although it's a circumstance I don't want to be in, the challenge mentally has seen me grow as a man and as an athlete and certainly as a teammate."
Warriors v Titans
Mt Smart Stadium, 2pm tomorrowKevin Locke
Warriors: Bill Tupou, Jerome Ropati, Ben Henry, Manu Vatuvei, Thomas Leuluai, Shaun Johnson, Sam Rapira, Nathan Friend, Russell Packer, Feleti Mateo, S Mannering (c), Todd Lowrie
Reserves: Ben Matulino, Jacob Lillyman, Elijah Taylor, Pita Godinet, Ngani Laumape
Titans: William Zillman, Kevin Gordon, Brad Takairangi, Jamal Idris, Anthony Don, Aidan Sezer, Albert Kelly, Luke Douglas, Beau Falloon, Luke Bailey, Greg Bird, Mark Minichiello, Nate Myles
Reserves: David Taylor, Mark Ioane, Ryan James, Sam Irwin, Steve Michaels
- APNZ