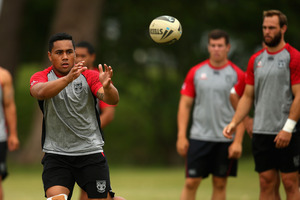 In the midst of a difficult start to the season for the Warriors, Ngani Laumape has been a breakthrough bonus.
The NRL rookie enjoyed an outstanding debut in an otherwise forgettable day at Cronulla and gave another assured display on the wing in last week's vital victory over the Cowboys.
Today he lines up at centre against the fearsome Rabbitohs backline - a rapid rise for a 19-year-old who had barely played league until his late teens.
"He's definitely been a surprise packet for us," Warriors assistant coach Andrew McFadden tells the Herald on Sunday. "We had no expectations on Ngani - he was a young, raw kid. But he trains the house down and he is one of very few young players to have this fearless mentality - things don't seem to faze him. Whatever gets thrown in front of him, he sees it as a challenge and has a crack. His personality and attitude is the reason why he is doing so well."
"I don't know how I found myself here," jests Laumape, as he looks around the plush new Warriors gym after a long training session.
"It was a massive step up from the under-20s in terms of intensity and work ethic. But I was chasing something I really wanted to achieve.
"My hard work has paid off so far. I know I am nowhere near there yet but I have enjoyed it and hope I'll be sticking around."
Two NRL games doesn't make a career but Laumape has made a solid start. He looks comfortable when other debutants before him have been overawed. He has been solid in the air, forceful in possession and strong in defence.
Today's selection is a big call; playing just your third NRL match in arguably the most defensively challenging position, against probably the most free-scoring team in the competition.
While the unavailability of Dane Nielsen, Ben Henry and Dominique Peyroux has created a vacuum in the centres, the selection of Laumape when other, more experienced options were available demon-strates both the level of faith in the youngster and a commitment to the development strategy espoused heavily since 2012.
"A lot of young players get overawed or intimidated going out against big names but he just sees it as another person and that's the way it should be," says McFadden. "He has really stepped up to the challenge and has earned his spot."
"I want to challenge myself," says Laumape. "I wasn't going to back down to anyone just because they have a big name. I want to be myself; I know I have worked hard to get to where I was and had to believe in myself."
Of Tongan heritage, Laumape grew up playing rugby and starred for the Palmerston North Boys' High 1st XV, mainly at centre but also in the back row. During his final years at school, he turned out for the Feilding Falcons ("once I had my first league game, I loved it") and was recruited by the Warriors for the 2012 Toyota Cup season. His Junior Warriors debut was delayed as he came back from a serious knee injury but he soon prospered and became an ever-present, scoring 16 tries in 20 games last year.
He was brought into the Warriors NRL train-on squad and after some early struggles began to find his feet.
"Our first impression wasn't very good and day one on the track [during pre-season], he probably didn't perform that well," says McFadden. "But he knew where he was back then and where he wanted to be."
He impressed in the trials against Gold Coast and Penrith (Warriors coach Matt Elliott said after the Hamilton match that Laumape "looked like a first grader, didn't he?") and was solid for the Vulcans before getting his chance in round three.
"After Matt Elliott told me [I was playing], I wanted to get off the phone and pinch myself to see if it was real or not," says Laumape. "I was overwhelmed. I couldn't believe it, as it came round so fast."
Apart from his own ambitions, Laumape has had an additional motivation to succeed - his two-year-old daughter Maria, whom he had to leave behind when he signed with the Warriors.
"I had to move away and leave my daughter in Palmerston North," says Laumape. "Once I was here, I knew there was no turning back. I didn't want to waste a year or two years being away from her and going back to Palmerston North with nothing. I knew I had to make the most of it."
The 1.78m, 98kg Laumape is known as 'Little Nugget' around Mt Smart, a reference to his similarity in build, running style and approach to compatriot Konrad Hurrell, who carries the 'Nugget' moniker. As Hurrell discovered last year, things get tougher after your first few games, as NRL teams are quick to analyse and dissect capabilities.
"No one knows about him now so it will get harder," agrees McFadden. "Teams will figure out how to defend him and if there are any weaknesses in his game. But he wants to learn and he will adapt to that. As long as he is playing good footy, he will stay in the mix. He has the right attitude."