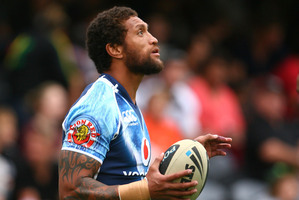 As Manu Vatuvei returns to the field today, it is looking increasingly likely that the veteran winger will be at Mt Smart next year and beyond.
With his contract up at the end of this season, there has been plenty of interest in Vatuvei from rival NRL clubs as well as some feelers from rugby clubs in Japan.
But the Warriors are hopeful the 27-year-old, seen as a key figure for the club on and off the field, will sign a contract extension in the next few weeks.
"The club is really keen to keep him and definitely optimistic that he will be here for life," says assistant coach Andrew McFadden. "There are still some things to be worked out but we are hopeful."
"It will be the hardest decision of my career," admits Vatuvei. "Getting to my age, it makes it even harder. I need to make sure I have the right deal for me and my family. Hopefully I can stay at the club but I have to look at all the options.
"If I go somewhere, I go somewhere; if not, then I have to secure my spot at the club for a long time."
Vatuvei, who was injured early in the heavy defeat at Parramatta in round one, knows on-field performances remain the key bargaining chip. For one of the few times in his career, he faces genuine competition for his spot with the emergence of Glen Fisiiahi and Ngani Laumape alongside Bill Tupou.
"The main thing now is to play well - if you don't play well, they wouldn't want you," says Vatuvei, who has scored 102 tries in 153 NRL games. "It all comes down to playing good. Hopefully [my future] all gets sorted sooner than later but I have a long season ahead."
Training for his pre-season boxing bout made him fitter than ever coming into the season. He dropped to 103kg, which he concedes was "a bit too light" but is now back to around 107kg which he says is ideal in terms of maintaining the balance of power, fitness and speed.
Today's challenge is considerable, with the quicksilver Nathan Merritt on one flank and Dylan Everingham, one of the biggest improvers in 2012, on the other.
"Everingham has a good jumping game and good footwork," says Vatuvei. "[Nathan] Merritt is lightning and it'll be a massive job on the edge to stop them. But it works the other way too; they have to try and stop us. It'll be a good battle."
Despite their relative performances in recent years, the Rabbitohs have traditionally been - well - bunnies for the Warriors. The Auckland side have their best NRL record against the men from Redfern (18 wins in 25 matches; 72 per cent) and have won four of the last five clashes.
Souths haven't won at Mt Smart since 2010 but will be hard to stop today. They are the form team of 2013 and look the best Rabbitohs outfit since 1989. That year, a respected Souths side which featured Mario Fenech, Ian Roberts, Les Davidson, Craig Coleman and Phil Blake finished as minor premiers and narrowly missed out on reaching the grand final.