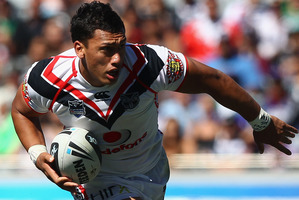 Opinions vary regarding players announcing early in the season that they have signed with rival clubs for next year and beyond.
Within some clubs, the news can be faced without much heartache if it is a fringe or regular player without star status. However, if a leading player signs elsewhere, it can cause ructions, especially if that team is losing and scapegoats need to be found. The fallout can harm relationships between player, coach, fans and occasionally administrators. Who benefits in the long run?
Let's take Elijah Taylor, for example, who this year announced his departure for Penrith under former coach Ivan Cleary. I don't object to his signing or Penrith capturing his signature; both parties have the right to do so.
Taylor is playing for pride in a team now 0-3 in the new season, playing out of position and there is disagreement by many, myself included, with this positional experiment.
When Nathan Friend recovers from his injury and, assuming he returns to hooker, where will Taylor play? As a back rower, does he displace Todd Lowrie, Simon Mannering, Steve Rapira, Feleti Mateo or Ben Henry? Will he revert to a back row spot or will he be a bench player covering hooker-back row? What happens to Pita Godinet if Taylor is the bench player?
Taylor's versatility is his Achilles heel but, more importantly, he will be expendable because his future is elsewhere, especially if the Warriors continue to lose. Last season, we saw the demotion of James Maloney to the Vulcans when Tony Iro was coach, purely because he was expendable; the same will happen to Taylor.
So has it been worth announcing his eventual departure so early?
Others who fit into this category are Brent Kite of Manly who has also signed for Penrith next season and Corey Norman from the Broncos to the Eels. While Manly continue on their hot streak, Kite will maintain his place in the team. However, Norman is playing below his best in a side struggling to score and is in the unfamiliar role of fullback. He is unlikely to displace either Peter Wallace or Scott Prince in the halves.
Norman's tenure in the team is at risk, as they will return Josh Hoffman to fullback if Norman continues to be ineffective while showing signs of not being happy nor comfortable in the role. Who is to blame for this situation or who has compounded it?
A player departs to another club for many reasons - he does not like the coach or he likes another coach; he is offered more money to move clubs; he thinks he has a greater chance of glory elsewhere; he does not like the environment at a club; he thinks he is being squeezed out of the team; he may miss his family or familiar surroundings.
If a player leaves a club a year in advance of his contract expiring, which of these reasons can you put it down to?